Newsgeist: 1/19/11
The spirit of the news
By Eric Pickhartz, 8:43AM, Wed. Jan. 19, 2011
Come learn enough current information to double your Qrank score with Newsgeist! Today's edition has stories on Gov. (again) Perry, Alzheimer's Disease, and Lance Armstrong. Click through to read more.
-Rick Perry was sworn in last night, partied it up, and told the crowd: "We got to get to work tomorrow."
-Hometown two-wheeler Lance Armstrong is facing new information that could be the end of his hopes to assert his innocence.
-Two students were wounded by an accidental shooting at a Los Angeles high school.
-A plethora of new U.S. jobs could come from Chinese companies.
-Two new studies have intriguing Alzheimer's Disease news.
-Former Haitian leader Jean-Claude Duvalier may go to trial for his wrongdoings.
-And finally, if you have trouble understanding rap lyrics, you're in luck.
We need your help!

If you have any suggestions on how to make Newsgeist better, more informative, and genuinely more satisfying, let us know!

Leave comments in the section below and we'll do our best to accommodate. Want more links? Less? Found a great story that should be included? Want to design a logo? Let us know!
A note to readers: Bold and uncensored, The Austin Chronicle has been Austin's independent news source for almost 40 years, expressing the community's political and environmental concerns and supporting its active cultural scene. Now more than ever, we need your support to continue supplying Austin with independent, free press. If real news is important to you, please consider making a donation of $5, $10 or whatever you can afford, to help keep our journalism on stands.
READ MORE
More News
What happened today in gay? Here's your QILTBAG recap of queer news.
David Estlund, June 1, 2015
What happened today in gay? Here's your QILTBAG recap of queer news.
David Estlund, May 29, 2015
More by Eric Pickhartz
March 4, 2011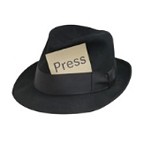 March 2, 2011
KEYWORDS FOR THIS POST
News, Haiti, Rick Perry, Alzheimer's, Lance Armstrong
MORE IN THE ARCHIVES