Newsgeist: 1/17/11
The spirit of the news
By Eric Pickhartz, 8:23AM, Mon. Jan. 17, 2011
An MLK Day edition of the Newsgeist brings you stories on Tunisian governmental conflict, Glee's Golden Globes, and an NFL Playoff upset. Read more for the links.
-Here's a glance back at Martin Luther King, Jr.'s visit to UT in 1962.
-Today is also the 50-year anniversary of President Eisenhower's speech warning of the military-industry complex.
-The Golden Globes were last night, and Glee kicked some ass.
-A University of Colorado student paid tuition with $1 dollar bills.
-Tunisia is experiencing protests and severe political unrest.
-The New York Jets walked the walk after hyping their match-up with the New England Patriots with some wonderful smack talk.
-And finally, wouldn't you think the name of this candy bar would have dropped a hint?
We need your help!

If you have any suggestions on how to make Newsgeist better, more informative, and genuinely more satisfying, let us know!

Leave comments in the section below and we'll do our best to accommodate. Want more links? Less? Found a great story that should be included? Want to design a logo? Let us know!
A note to readers: Bold and uncensored, The Austin Chronicle has been Austin's independent news source for almost 40 years, expressing the community's political and environmental concerns and supporting its active cultural scene. Now more than ever, we need your support to continue supplying Austin with independent, free press. If real news is important to you, please consider making a donation of $5, $10 or whatever you can afford, to help keep our journalism on stands.
READ MORE
More News
What happened today in gay? Here's your QILTBAG recap of queer news.
David Estlund, June 1, 2015
What happened today in gay? Here's your QILTBAG recap of queer news.
David Estlund, May 29, 2015
More by Eric Pickhartz
March 4, 2011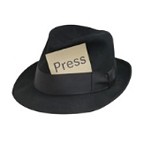 March 2, 2011
KEYWORDS FOR THIS POST
News, Tunisia, Martin Luther King, Jets, Patriots, University of Colorado, Glee, Golden Globes, Eisenhower
MORE IN THE ARCHIVES