Leffingwell Bites the Apple
Mayor criticizes AISD school closure plans
In an age of occasional mayoral takeovers of major urban school districts, the city of Austin has always been very circumspect about intruding into Austin Independent School District business. But now Mayor Lee Leffingwell has broken that detente by attacking district plans to close schools as contrary to Austin's future wellbeing.
On Jan. 10, the AISD Facilities Master Plan Task Force recommended to the Board of Trustees that the district close eight elementaries (Barton Hills, Brooke, Joslin, Oak Springs, Ortega, Pease, Sanchez, and Zilker) plus the beleaguered Pearce Middle School. This has had parents, especially from Barton Hills and Zilker, up in arms that the district is contemplating axing campuses that all made the state minimum standards, and six of which hit the top-rate exemplary rating.
The furore has been so great that the normally sanguine Leffingwell has issued a statement on the matter. Although he confirmed the standard line that this is district business for which the district is accountable, he sent what can only be translated as a stern warning to the board: "Losing good schools in the urban core," he wrote, "would plainly make many of our goals as a city dramatically more difficult to realize."
The public will get to weigh in on the closure proposals at two meetings (tonight at 6pm at the Delco Center, 4601 Pecan Brook Drive and Thursday at the Toney Burger Activity Center, 3200 Jones Road.) With Leffingwell weighing in, expect fireworks. Here's his statement in full.
I've been contacted by hundreds of parents and neighborhood leaders over the past few days expressing concern about the possibility of school closures in Austin. I know that AISD is facing some very difficult budget decisions, and I do not envy them the choices that I know must be made. The City of Austin plays no formal role in those decisions.

However, I feel obligated to share my personal view that as the City continues to work to reduce expensive suburban sprawl and facilitate sustainable growth in Austin's urban core, the prospect of closing successful central city schools clearly runs counter to our community's long-term planning goals.

We know that families with children will not move into Austin neighborhoods – or stay in Austin neighborhoods – where there are not good public schools. Losing good schools in the urban core would plainly make many of our goals as a city dramatically more difficult to realize.
The last time the mayor's office stepped directly into AISD politics was back in 1999, when then-mayor
Kirk Watson
(as sick as everyone else of AISD's inability to pick a district chief that would stick) offered to create a city task force to pick a new superintendent. Watson ultimately stepped out of that arena, so for Leffingwell to step in could turn out to be a more serious development than his calmly-worded press release implies.
Got something to say? The Chronicle welcomes opinion pieces on any topic from the community. Submit yours now at austinchronicle.com/opinion.
A note to readers: Bold and uncensored, The Austin Chronicle has been Austin's independent news source for over 40 years, expressing the community's political and environmental concerns and supporting its active cultural scene. Now more than ever, we need your support to continue supplying Austin with independent, free press. If real news is important to you, please consider making a donation of $5, $10 or whatever you can afford, to help keep our journalism on stands.
READ MORE
More AISD
Most extracurriculars postponed, says Superintendent Elizalde
Beth Sullivan, Dec. 31, 2020
First three weeks will have no in-class instruction
Kimberley Jones, July 14, 2020
More City Council
Advocates for low-income tenants urge a go-slow approach
Maggie Q. Thompson, June 13, 2022
But many hours of deliberation over two days on the dais
Austin Sanders, Aug. 13, 2021
More by Richard Whittaker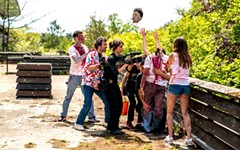 French remake of beloved Japanese movie-making comedy adds a little
Sept. 30, 2022
Wall-to-wall Godzilla in the new show, opening tonight
Sept. 30, 2022
KEYWORDS FOR THIS POST
AISD, City Council, Lee Leffingwell, Barton Hills, Brooke, Joslin, Oak Springs, Ortega, Pease, Sanchez, Zilker Elementary, Facilities Master Plan Taskforce, Austin Independent School District, Board of Trustees
MORE IN THE ARCHIVES