Newsgeist: 1/5/10
The spirit of the news
By Eric Pickhartz, 8:39AM, Wed. Jan. 5, 2011
Welcome to the wonderful Wednesday edition of the Newsgeist! Today's stories include info on the Consumer Electronics Show, an epic cold front in Austin, and a possible split of an African country. Read more for the links.
-The Texas Transportation Forum wraps up today, as the state looks for ways to pay for roads.
-The coldest outbreak in 20 years could hit Austin next week.
-Here's insight on the so-called "death panels," a new Medicare rule being enforced across the country.
-Check out the latest from the Consumer Electronics Show in Las Vegas.
-Jimmy Stewart might disagree, but the filibuster is likely to be reformed.
-Fighting between northern and southern Sudanese has led to a vote that could split the country.
-And finally, iPads are showing up in classrooms across the U.S.
We need your help!

If you have any suggestions on how to make Newsgeist better, more informative, and genuinely more satisfying, let us know!

Leave comments in the section below and we'll do our best to accommodate. Want more links? Less? Found a great story that should be included? Want to design a logo? Let us know!
Got something to say? The Chronicle welcomes opinion pieces on any topic from the community. Submit yours now at austinchronicle.com/opinion.
A note to readers: Bold and uncensored, The Austin Chronicle has been Austin's independent news source for over 40 years, expressing the community's political and environmental concerns and supporting its active cultural scene. Now more than ever, we need your support to continue supplying Austin with independent, free press. If real news is important to you, please consider making a donation of $5, $10 or whatever you can afford, to help keep our journalism on stands.
READ MORE
More News
What happened today in gay? Here's your QILTBAG recap of queer news.
David Estlund, June 1, 2015
What happened today in gay? Here's your QILTBAG recap of queer news.
David Estlund, May 29, 2015
More by Eric Pickhartz
March 4, 2011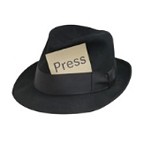 March 2, 2011
KEYWORDS FOR THIS POST
News, Sudan, Consumer Electronics Show, death panels, iPad, filibuster, Texas Transportation Forum
MORE IN THE ARCHIVES