Newsgeist: 1/3/10
The spirit of the news
By Eric Pickhartz, 9:00AM, Mon. Jan. 3, 2011
Happy New Year and happy Newsgeist! Check out the latest stories on Robert E. Lee, Pompeii, and the closing of Katz's Deli. Read more for the links.
-An Austin judge is attempting a block on a proposal to dump radioactive waste in West Texas.
-Katz's Deli ran out of food and had to close a day early.
-The debate on the budget deficit could get ugly.
-Facebook received a nice New Year's present.
-The ruins in Pompeii are being destroyed even more by human neglect.
-A PBS documentary on Robert E. Lee is being touted as eye-opening.
-And finally, the new Xbox 360 Kinect introduces some interesting gaming options, if developers can get past Microsoft.
We need your help!

If you have any suggestions on how to make Newsgeist better, more informative, and genuinely more satisfying, let us know!

Leave comments in the section below and we'll do our best to accommodate. Want more links? Less? Found a great story that should be included? Want to design a logo? Let us know!
Got something to say? The Chronicle welcomes opinion pieces on any topic from the community. Submit yours now at austinchronicle.com/opinion.
A note to readers: Bold and uncensored, The Austin Chronicle has been Austin's independent news source for over 40 years, expressing the community's political and environmental concerns and supporting its active cultural scene. Now more than ever, we need your support to continue supplying Austin with independent, free press. If real news is important to you, please consider making a donation of $5, $10 or whatever you can afford, to help keep our journalism on stands.
READ MORE
More News
What happened today in gay? Here's your QILTBAG recap of queer news.
David Estlund, June 1, 2015
What happened today in gay? Here's your QILTBAG recap of queer news.
David Estlund, May 29, 2015
More by Eric Pickhartz
March 4, 2011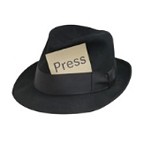 March 2, 2011
KEYWORDS FOR THIS POST
News, Facebook, Pompeii, Microsoft, Xbox 360 Kinect, Robert E. Lee, PBS, Katz's Deli
MORE IN THE ARCHIVES