Newsgeist: 12/10/10
The spirit of the news
By Eric Pickhartz, 8:50AM, Fri. Dec. 10, 2010
Thank goodness it's Friday, and thank goodness for the Newsgeist stories on the W Austin Hotel, the Nobel Peace Prize, and video game consoles. Read more after the bump.
-U.S. stock futures are up, and here's your Friday View of the Market.
-The new W Austin Hotel is set to start business very soon.
-Texas denied tax breaks to the film Machete for portraying the state in a bad light.
-The Nobel Peace Prize was awarded to an empty chair.
-The President believes Congress will successfully pass the tax package.
-Which video game system is best? PCWorld breaks them down.
-And finally, Hannah Montana is all grown up.
We need your help!

If you have any suggestions on how to make Newsgeist better, more informative, and genuinely more satisfying, let us know!

Leave comments in the section below and we'll do our best to accommodate. Want more links? Less? Found a great story that should be included? Want to design a logo? Let us know!
A note to readers: Bold and uncensored, The Austin Chronicle has been Austin's independent news source for almost 40 years, expressing the community's political and environmental concerns and supporting its active cultural scene. Now more than ever, we need your support to continue supplying Austin with independent, free press. If real news is important to you, please consider making a donation of $5, $10 or whatever you can afford, to help keep our journalism on stands.
READ MORE
More News
What happened today in gay? Here's your QILTBAG recap of queer news.
David Estlund, June 1, 2015
What happened today in gay? Here's your QILTBAG recap of queer news.
David Estlund, May 29, 2015
More by Eric Pickhartz
March 4, 2011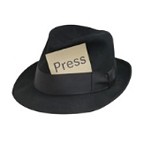 March 2, 2011
KEYWORDS FOR THIS POST
News, W Hotel, Obama, Machete, Mylie Cyrus, video games, Nobel Prize
MORE IN THE ARCHIVES