News of the Day: 11/17/10
Welcome to our new collection of news stories
By Eric Pickhartz, 8:58AM, Wed. Nov. 17, 2010
It's the News of the Day! It may not be the best, but it's certainly not the worst collection of news stories you'll find online today. Plus, we need your help! Yes, you, the reader! Read more to find out how.
-Four U.S. Senators are pushing for a ban on budget earmarks.
-Prosecutors in the Tom Delay case are asking for an Austin reporter's taped interview.
-Ground was broken at the George W. Bush Presidential Library in Dallas Tuesday, and it could house the infamous 'Mission Accomplished' banner.
-The violence in Haiti is not helping the cholera epidemic.
-The TSA Chief will face questioning on pat-downs and body scans.
-The Beatles are finally on iTunes.
-And finally, Four Loko, everyone's favorite alcoholic energy drink, is slowly submitting to the FDA.
We need your help!

If you have any suggestions on how to make News of the Day better, more informative, and genuinely more satisfying, let us know!

Leave comments in the section below and we'll do our best to accommodate. Want more links? Less? Found a great story that should be included? Got a better name idea than News of the Day? Want to design a logo? Let us know!
A note to readers: Bold and uncensored, The Austin Chronicle has been Austin's independent news source for almost 40 years, expressing the community's political and environmental concerns and supporting its active cultural scene. Now more than ever, we need your support to continue supplying Austin with independent, free press. If real news is important to you, please consider making a donation of $5, $10 or whatever you can afford, to help keep our journalism on stands.
READ MORE
More News
What happened today in gay? Here's your QILTBAG recap of queer news.
David Estlund, June 1, 2015
What happened today in gay? Here's your QILTBAG recap of queer news.
David Estlund, May 29, 2015
More by Eric Pickhartz
March 4, 2011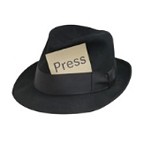 March 2, 2011
KEYWORDS FOR THIS POST
News, Tom Delay, The Beatles, Four Loko, Haiti, TSA, Bush
MORE IN THE ARCHIVES