News of the Day: 11/15/10
Welcome our new collection of news stories
By Eric Pickhartz, 9:45AM, Mon. Nov. 15, 2010
The newest addition to Chronolog, News of the Day gathers knowledge-worthy stories from Texas, the region, the nation, and the world. Read more for a link-happy collection of things you need to know.
-Though it may not be enough, BP has reimbursed $518 billion for oil-spill cleanup.
-Bill White says he won't run for a Senate seat in 2012, but still doesn't have anything nice to say about Perry and the loss.
-The U.S. Postal Service has reported $8.5 billion in financial losses.
-The Tom Delay case is nearing an end.
-Seven people were killed in an explosion at a Mexican beach resort.
-Blog commentary on the new UT TV Network.
-And finally, Governor Perry, consider yourself lucky it was just a coyote and not a European Red Stag Deer.
A note to readers: Bold and uncensored, The Austin Chronicle has been Austin's independent news source for almost 40 years, expressing the community's political and environmental concerns and supporting its active cultural scene. Now more than ever, we need your support to continue supplying Austin with independent, free press. If real news is important to you, please consider making a donation of $5, $10 or whatever you can afford, to help keep our journalism on stands.
READ MORE
More News
What happened today in gay? Here's your QILTBAG recap of queer news.
David Estlund, June 1, 2015
What happened today in gay? Here's your QILTBAG recap of queer news.
David Estlund, May 29, 2015
More Tom Delay
2-1 decision of 3rd Court says state didn't prove case
Jordan Smith, Sept. 19, 2013
Advice to Wisconsin from the man that took Dems to Ardmore
Richard Whittaker, Feb. 23, 2011
More by Eric Pickhartz
March 4, 2011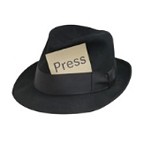 March 2, 2011
KEYWORDS FOR THIS POST
News, Tom Delay, Bill White, BP, Postal Service, UT TV
MORE IN THE ARCHIVES