The Sunday Survey: 8/22/10
Who said teachers need a living wage?
Remember last Monday, when it didn't seem like the world was going to hell in a hand basket? There's been a lot of discussion this week of Austin's history, and some serious debates about how it will pay for its future.
Questions of cultural inheritance were in the air. As the music community pondered the end of what has become dubbed "the iconic years" at the Cactus Cafe, council accepted a cap on historic zoning. The system is supposed to protect culturally and architecturally significant structures, but it has become little more than a middle class tax dodge. Unfortunately, nothing saved the Dobie Theater, the beloved and unique cinema just off the UT campus, which announced this week that it will close permanently today.
Meanwhile, speaking of historic structures, the State Preservation Board took the press corps on a guided tour of the State Capitol renovations (see video of the rooftop escapade here.) Some critics have questioned sprucing up the capitol during a recession, but the board notes that this is all being paid for by sales in the store and parking fees.
However, there was one moment of remembrance that everyone seemed to agree upon: The renaming of the Mexican American Cultural Center to pay tribute to the late Emma Barrientos.
Looking to the future, Austin ISD is in the middle of a brutal discussion about a possible tax rate increase. On Monday, the board will vote in the 2010-11 budget, but after a divisive public meeting on Thursday, no-one is sure which way they'll jump. The business community is complaining that the proposal (which would still leave the rate at a fraction of what it was between 2000 and 2006) should wait for another day. Everyone else seems to have remembered that, out of the top 50 districts, AISD's teachers are the 49th worst paid (even under the district's own measurements, which include health benefits, they're seventh out of the top ten, and that doesn't factor in Austin's high cost of living.)
Could be worse: Could be in jail. Although, as historian Robert Perkinson noted in his conversation with news editor Michael King, there's enough people in Texas prisons that you have to wonder about who is making money off them.
If you'd like cheering up, don't forget that Austin has lots of great food carts, but don't fill up. It's the annual Austin Chronicle Hot Sauce Festival on Sunday, Aug. 29.
A note to readers: Bold and uncensored, The Austin Chronicle has been Austin's independent news source for almost 40 years, expressing the community's political and environmental concerns and supporting its active cultural scene. Now more than ever, we need your support to continue supplying Austin with independent, free press. If real news is important to you, please consider making a donation of $5, $10 or whatever you can afford, to help keep our journalism on stands.
READ MORE
More Sunday Survey
Perry debate-dodges and council budget-passes
Richard Whittaker, Sept. 19, 2010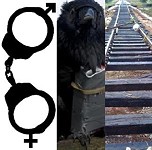 A storm, a firing, a budget and Four Lions
Richard Whittaker, Sept. 12, 2010
More by Richard Whittaker
Festival rebranding as PRISM for new era
Jan. 14, 2021
Writer/director on why Liam Neeson is the new Clint Eastwood
Jan. 14, 2021
KEYWORDS FOR THIS POST
Sunday Survey, AISD, Austin Hot Sauce Festival
MORE IN THE ARCHIVES