The Sunday Survey: 7/25/10
Big sign over Austin says "Gone fishin'"
Call it the week of suspended animation. Council is still on vacation: The November election campaigns are all breathing easy after filing their campaign finance reports: And the local Web-savvy progressives are all in Las Vegas for Netroots Nation 2010. So what did happen?
Well, as if city council didn't have enough to worry about with the city budget, the seemingly settled issue of the Nate Sanders II shooting (well, legally settled) has come up again. With Mayor Pro Tem Mike Martinez and the Police union calling for a rejection of the $750,000 deal hammered out by city legal (if for very different reasons), the city could find itself in court before too long.
One concrete piece of news: On Thursday, City Manager Marc Ott announced that Larry Weis, CEO of Turlock Irrigation District, will be replacing Roger Duncan as the general manager of Austin Energy. While some may complain about another Californian moving to Austin (somewhere, a NIMBYist is preparing a letter of complaint), others that have met Weis (rhymes with "geese") have positive words to say about him.
Statewide, the Republican Party of Texas tried to fight back against the idea that its members are unfriendly to Hispanic voters and candidates by launching its Hispanic Republicans of Texas PAC. Wonder if they can convince Victor Carillo that the Grand Ol' Party is truly friendly towards Hispanic candidates (if he isn't put off by the Texas GOP's latest platform.)
Meanwhile, stand by for action: This coming week, council re-assembles after its break, while the current rumor is that the site of Austin's planned Formula One race track will be announced.
A note to readers: Bold and uncensored, The Austin Chronicle has been Austin's independent news source for almost 40 years, expressing the community's political and environmental concerns and supporting its active cultural scene. Now more than ever, we need your support to continue supplying Austin with independent, free press. If real news is important to you, please consider making a donation of $5, $10 or whatever you can afford, to help keep our journalism on stands.
READ MORE
More Sunday Survey
Perry debate-dodges and council budget-passes
Richard Whittaker, Sept. 19, 2010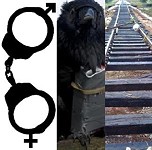 A storm, a firing, a budget and Four Lions
Richard Whittaker, Sept. 12, 2010
More by Richard Whittaker
Sorrow swallows a family whole in this supernatural chiller
April 13, 2021
Metahorror deals with the trauma of having your life as a movie
April 13, 2021
KEYWORDS FOR THIS POST
Sunday Survey, Marc Ott, Larry Weis, Nate Sanders II
MORE IN THE ARCHIVES