The Sunday Survey 7/11/10
Oil, Emmys and derailments
It may have started off with the Fourth of July celebrations, but this will go down as the week that oil from the Deepwater Horizon disaster reached the Texas Coast.
Meanwhile, the Sierra Club and Environment Texas announced they will sue ExxonMobil Corp. for violating Texas' already-lenient flex-permitting system (a system so flawed that the Environmental Protection Agency has now halted its use.)
More locally on the fuel consumption front, critics of CapMetro's MetroRail service were positively giddy that the Red Line service was delayed because a freight train that uses the same track was partially derailed. The transit agency is also deep in negotiations regarding the UT shuttle service. The battle comes down to cash, but the benefit of keeping as many of the tens of thousands of UT students from driving on to campus will undoubtedly play a role in the argument.
With the eco-movement scoring some points, it may seem a little odd that the Texas Democratic Party appeared to let the Green Party of Texas off the hook for their part in the seemingly Republican-inspired ballot access shenanigans. However, with the possibility of further criminal investigation (the Texas Supremes are still looking into who paid who when, for what, and how it was reported), and the Texas Greens' reputation hammered, not exactly their best week ever.
Even council, which is supposedly on its midsummer break, couldn't avoid a little controversy. Council Members Randi Shade and Laura Morrison got dragged into a discussion over whether two meetings – one an invite-only conversation with the two candidates to become the next Austin Energy GM and a sub-committee meeting on social services contracts – were open enough. That argument may come down to whether the meetings should have been fully public, or whether it's just that certain self-appointed leaders of the community got their noses out of joint because they weren't invited.
Seems it was left to the visual arts to break the summertime blues, with a big week for two Austin-filmed projects. Robert Rodriguez brought some Predators to the Paramount, while Friday Night Lights picked up four Emmy nominations (real Emmys! Not Schmemmys! Suck it, Kathy Griffin!) Read our FNL cast-and-crew interview here, and find out what Rodriguez had to say about following Arnie into the jungle here.
A note to readers: Bold and uncensored, The Austin Chronicle has been Austin's independent news source for almost 40 years, expressing the community's political and environmental concerns and supporting its active cultural scene. Now more than ever, we need your support to continue supplying Austin with independent, free press. If real news is important to you, please consider making a donation of $5, $10 or whatever you can afford, to help keep our journalism on stands.
READ MORE
More Sunday Survey
Perry debate-dodges and council budget-passes
Richard Whittaker, Sept. 19, 2010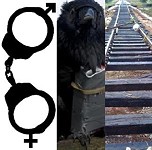 A storm, a firing, a budget and Four Lions
Richard Whittaker, Sept. 12, 2010
More by Richard Whittaker
Keep the tapes rolling at Austin's VHS and DVD institution
May 23, 2019
Rooster Teeth snags special screening of the SXSW favorite
May 23, 2019
KEYWORDS FOR THIS POST
Sunday Survey, Friday Night Lights, Randi Shade, Laura Morrison, CapMetro, Capital Metro, Predators
MORE IN THE ARCHIVES