The Sunday Survey, 6/27/10
Dems on holiday, GOP shenanigans, and a monster council session
While you're weeping into your beer about the departure of Team USA from the FIFA World Cup, take solace in two things. One, finally the US did well at a world championship for a sport that other nations actually play and two, it's time for the Sunday Survey.
Of course, it could all be a lot worse, as shown by Kate Messer's coverage of how Grand Isle, La. is dealing with consequences of the BP oil disaster.
The Austin political scene may have seemed a little empty this weekend, with the Texas Democratic Party taking off to Corpus Christi for sun, sea, and points of order at their annual convention. Fortunately, the GOP gave the press corps lots to write about with Thursday's explosive revelation that Republican operatives close to Gov. Rick Perry were involved in not one but two potentially illegal plans to turn the Green Party of Texas into an electoral stalking horse.
Speaking of vacation time, council (and our own City Hall Hustler, Wells Dunbar) somehow survived a marathon 152 agenda item council meeting before heading off for its summer recess. That included a staff briefing on what might be found in a Nov. 2 multimodal bond package (that is, if the city decides to go ahead with it.)
Elsewhere, the three candidates to replace Roger Duncan as general manager of Austin Energy started prepping for their June 30 public forum.
There's also a quick update on the long-awaited BMX and skate park at House Park: Staff with Parks and Rec said the current plan is for a July 6 groundbreaking with at least one member of council present. First sitting member to pull off a natas spin gets a Chronicle koozie.
A note to readers: Bold and uncensored, The Austin Chronicle has been Austin's independent news source for almost 40 years, expressing the community's political and environmental concerns and supporting its active cultural scene. Now more than ever, we need your support to continue supplying Austin with independent, free press. If real news is important to you, please consider making a donation of $5, $10 or whatever you can afford, to help keep our journalism on stands.
READ MORE
More Sunday Survey
Perry debate-dodges and council budget-passes
Richard Whittaker, Sept. 19, 2010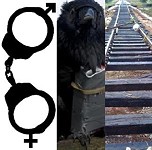 A storm, a firing, a budget and Four Lions
Richard Whittaker, Sept. 12, 2010
More by Richard Whittaker
Of mushrooms, men, and subterranean superintelligences ..
April 15, 2021
Ben Wheatley's unexpected eco-horror is sinister and hilarious
April 16, 2021
KEYWORDS FOR THIS POST
Sunday Survey, BP, Oil spill, Austin Energy, House Park, BMX, Skateboard
MORE IN THE ARCHIVES