The Sunday Survey, 6/20/10
Junk, hires, bonds, China and chickens
It was either a great week for the city of Austin or the beginning of the economic end times. Either way, council is probably thanking their lucky stars that they're not part of Gov. Rick Perry's campaign staff.
Big hires came in pairs this week. Former Sustainable Building Coalition of Austin chair Lucia Athens becomes the city's new chief sustainability officer, while Florida's LYNX transit system chief Linda Watson succeeds the gone-but-not-forgotten Fred Gilliam as CEO of Capital Metro. Of course, that leaves the city still pondering how best to replace recently departed City Attorney David Smith (who retired under "did he jump or was he pushed?" circumstances in May) and a new general manager for Austin Energy to replace the well-regarded Roger Duncan.
Both Athens and Watson will have to get used to the often mercurial ways of Austin politics, as perfectly shown by the weird developments surrounding South Austin's Cathedral of Junk. On Tuesday cathedral owner Vince Hanneman surprised everyone (even close supporters) when he announced that he was closing the art installation permanently, due to city-inflicted changes. But not so fast: As of Friday, Hanneman has changed his mind and has been telling the media that he'll be working with the city to keep it open after all.
Both Athens and Watson may also end up involved in the negotiations surrounding the week's other big announcement. The day after the city's first public forum on the 2011 budget, Mayor Lee Leffingwell announced Wednesday that he's aiming for a combined rail and comprehensive bond vote in 2012, seemingly scuppering once and for all anything beyond a bare-bones transport bond for November or 2011 vote at all. With AISD's Board of Trustees seemingly waivering on any bond or tax election in November, the local part of the general election ballot could be pretty spartan.
Never mind, the state races will make up for any lack of excitement. Gov. Rick Perry may have been on a trip to China, but his campaign staff made up for his absence by hosting possibly the most inept press event ever. Democrats are now hammering the man they call Part-Time Perry hard, and his continuing refusal to debate Democratic challenger Bill White looks worse and worse by the day.
A note to readers: Bold and uncensored, The Austin Chronicle has been Austin's independent news source for almost 40 years, expressing the community's political and environmental concerns and supporting its active cultural scene. Now more than ever, we need your support to continue supplying Austin with independent, free press. If real news is important to you, please consider making a donation of $5, $10 or whatever you can afford, to help keep our journalism on stands.
READ MORE
More Sunday Survey
Perry debate-dodges and council budget-passes
Richard Whittaker, Sept. 19, 2010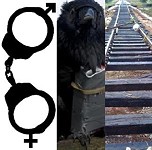 A storm, a firing, a budget and Four Lions
Richard Whittaker, Sept. 12, 2010
More by Richard Whittaker
Drive-in double-bill of Halloween treats
Oct. 30, 2020
Film making comedy is painfully on point
Oct. 29, 2020
KEYWORDS FOR THIS POST
Sunday Survey, Rick Perry, Cathedral of Junk, Linda Watson, Lucia Athens, CapMetro, Capital Metro
MORE IN THE ARCHIVES