'Project Deliverance' Nets Drugs, Cash, Cop
Texas police chief among those popped in drug sting
By Jordan Smith, 10:47AM, Fri. Jun. 11, 2010
Federal law enforcement officials said they have arrested more than 2,200 people as part of a 22-month multi-agency drug trafficking investigation – including the arrest of a Valley area police chief.
The coordinated drug sting case, named "Project Deliverance," ended with arrests in at least 18 states, including dozens of arrests in Texas. The cross-border operation targeted Mexican cartels, and those doing business with them to bring drugs across into the U.S. and to export weapons and money back into Mexico. In all, federal law enforcement officials say they have seized roughly $154 million in currency, 69 tons of pot, 2.5 tons of cocaine, 1,410 pounds of heroin, and 1,262 pounds of methamphetamine.
Among the arrests in Texas was that of Sullivan City police Chief Hernan Guerra who has been charged along with at least a dozen others of conspiracy to distribute large amounts of pot. Guerra, who has been chief of the small Hidalgo Co. community since 2004, was detained just before the FBI raided his office on Wednesday morning. (Interestingly, notes the Brownsville Herald, this is the second time in as many years that a Valley top-cop has been popped for dealing with drug cartels. In 2008, former Staff Co. Sheriff Reymundo Guerra – no relation – was arrested as part of a similar drug operation, the paper reports.)
A note to readers: Bold and uncensored, The Austin Chronicle has been Austin's independent news source for almost 40 years, expressing the community's political and environmental concerns and supporting its active cultural scene. Now more than ever, we need your support to continue supplying Austin with independent, free press. If real news is important to you, please consider making a donation of $5, $10 or whatever you can afford, to help keep our journalism on stands.
READ MORE
More Drug War
Million Marijuana March this Saturday in Austin
Jordan Smith, May 1, 2014
Retired Supreme Court judge weighs in on pot prohibition
Jordan Smith, April 25, 2014
More Marijuana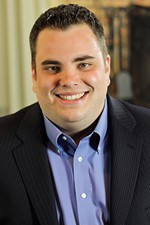 State rep's stoner past comes out in primary
Richard Whittaker, Dec. 30, 2015
High Profits, by Austin's Bat Bridge Entertainment, debuts
Marjorie Baumgarten, April 19, 2015
More by Jordan Smith
Motoreum's Yusuf & Antonio talk about the biz and their reality TV debut
May 22, 2014
Musical chairs at Downtown HQ
May 9, 2014
KEYWORDS FOR THIS POST
Reefer Madness, marijuana, Project Deliverance, FBI, DEA, drug war
MORE IN THE ARCHIVES