The Sunday Survey, 5/30/10
City manager survives, state budget doesn't
Race cars, collapsing state budgets, disappearing solar cells and the city manager hanging on to his job: Who says Austin politics gets boring when Summer gets close?
Tuesday saw the totally unexpected announcement that Formula One Racing will be coming to Austin for 10 years, starting in 2012. Cue the discussion of whether the deal has cost Austin anything yet and what it may cost or bring in the future.
That may also have been the last good news for the city this week. Three months after striking a economic development incentive deal with the city of Austin, Yingli Green Energy Americas Inc. announced they were putting their plans for a solar panel factory on hold. Thursday's council meeting was a 99 agenda item monster, but everything was just a warm-up for the clash between council, city legal and APD over the Keypoint report into the shooting of Nathaniel Sanders II. Somehow City Manager Marc Ott managed to survive the fallout and keep his job after a brutal bout of citizens' communication about Keypoint and the controversial intelligence-sharing fusion center (more on that in the upcoming issue.) This all overshadowed Friday's announcement of the short list of candidates to becomes the city's first chief sustainability officer.
It's not been so hot for the state either. On Tuesday, the Environmental Protection Agency finally shoved the Texas Commission in Environmental Quality out of the way to take over permitting for the Flint Hills Resources refinery near Corpus Christi. On Wednesday, Rep. John Otto, R-Dayton, told the House Select Committee on Fiscal Stability that Texas is running out of bond capacity. If that wasn't bad enough, on Friday, Gov Rick Perry, Lt. Gov. David Dewhurst and Speaker Joe Straus asked state agencies to submit two budget proposals for the 2012-13 biennium: One that works using the current budget (which has already undergone one slash in general revenue spending) and a second one that includes an extra 10% cut in GR and dedicated GR spending.
READ MORE
More Sunday Survey
Perry debate-dodges and council budget-passes
Richard Whittaker, Sept. 19, 2010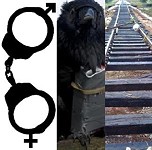 A storm, a firing, a budget and Four Lions
Richard Whittaker, Sept. 12, 2010
More by Richard Whittaker
Kevin Conroy and Loren Lester on voicing the dynamic duo
Nov. 17, 2017
Marvel's Sorcerer Supreme and big bad Thanos get a local scribe
Nov. 17, 2017
KEYWORDS FOR THIS POST
Sunday Survey, Marc Ott, Formula One, City Manager, State budget, David Dewhurst, Rick Perry, Joe Straus, John Otto, Chief Sustainability Officer, Yingli Green Energy Americas Inc.
MORE IN THE ARCHIVES