Who's in the House?
Quick hits on the House run-offs around the state
Run-off elections are an expensive resolution to a race you thought was already settled. Primary run-offs are the worst, a divisive chapter that distracts from the general election. So the Texas House races that endured second rounds on April 13 – eight Republican, one Democrat – are probably breathing a sigh of relief.
Here's a quick recap of those races (winner in bold, incumbent marked * where they ran.)
REPUBLICAN
HD14
Fred Brown* 62.93%
Gerald "Buddy" Winn 37.06%
Former Brazos County tax assessor/collector Winn came closer to taking Brown out than he did in the primary, but the incumbent was only hamstrung first time around because it was a four-way race.
HD 47
Holly Turner 46.26%
Paul D. Workman 53.73%
Austin's own House run-off got deeply nasty with mud-slinging in both directions. However, it's got to be worrying for Workman that, even with endless documentation backing his claims that Turner was an inexperienced candidate who barely beat her change-of-address form into the district, his margin of victory wasn't devastating. While his win-at-all-costs approach may worry Rep. Valinda Bolton, D-Austin, Workman may also face a series backlash for beating up on a fellow Republican so badly.
HD52
Larry Gonzales 71.27%
John Gordon 28.72%
Like Workman, Gordon went negative. Unlike Workman, he won massively. However, Gordon built the Williamson County Republican Party, and his refusal to meaningfully back Bryan Daniel in 2008 helped put Round Rock Democrat Diana Maldonado into the Lege. Will this year see another destructive schism for the WilCo GOP?
HD66
Mabrie Jackson 41.68%
Van Taylor 58.31%
Talk about your pyrrhic victories. Incumbent Brian McCall had already announced that he wasn't going to run again, but on April 2 he quit his seat to become chancellor of Texas State. That's forced a special election for May 8 and, since filing ended before the run-off, both Taylor and Jackson are on that ballot. So while Taylor takes the seat in November, it's feasible that Jackson will hold the seat until then.
HD83
Delwin Jones* 42.23%
Charles Perry 57.76%
The biggest upset, but the least surprising. Jones has been in and out of the legislature since 1964, when he was a Johnson Democrat, but got wiped out in the 1972 primary by legendary speaker Pete Laney. He returned as a Republican in 1988, but now has been wiped out by Tea Partier Perry, who faces no Democratic challenger and so is the new state rep for Lubbock.
HD 84
John Frullo 53.19%
Mark Griffin 46.80%
Lubbock's other incumbent, Carl Isett, stood down before the primary. Perry's fellow Tea Party-style GOPer Frullo now faces school counselor and Democratic challenger Carol Morgan in November: She faces a tough road, since the last Democrat to run in the district, Pearlie Mayfield, only managed 34% in 2006.
HD 127
Susan Curling 29.25%
Dan Huberty 70.74%
Retiring incumbent Joe Crabb endorsed Curling, but the voters went solidly for Humble ISD board of trustees president Huberty instead. He now faces Democrat Joe Montemayor, who comes with a solid law enforcement background with the US Department of Justice.
HD 149
Jack O'Connor 51.62%
Dianne William 48.37%
The race to take on Democratic incumbent Rep. Hubert Vo went to engineering consultant O'Connor by a small margin. However, Vo saw off a challenge from the well-funded Greg Meyers campaign by seven points, and O'Connor has shown no fund-raising prowess to date
DEMOCRATS
HD 76
Norma Chavez* 47.38%
Naomi R. Gonzalez 52.61%
Safe to say that there was some champagne cracked open in El Paso last night. Ex-"Craddick D" Chavez had a lousy relationship with the rest of the delegation and engaged in scarcely-disguised gay baiting during this run-off.
Got something to say? The Chronicle welcomes opinion pieces on any topic from the community. Submit yours now at austinchronicle.com/opinion.
A note to readers: Bold and uncensored, The Austin Chronicle has been Austin's independent news source for over 40 years, expressing the community's political and environmental concerns and supporting its active cultural scene. Now more than ever, we need your support to continue supplying Austin with independent, free press. If real news is important to you, please consider making a donation of $5, $10 or whatever you can afford, to help keep our journalism on stands.
READ MORE
More Elections
Find your nearest polling location and know what to bring with you
Oct. 14, 2019
A quick guide to the propositions you'll be yea-ing or nay-ing
Sarah Marloff, Oct. 11, 2019
More Election 2010
Could Dan Neil challenge the HD48 result?
Richard Whittaker, Dec. 8, 2010
Dist. 48 incumbent increases lead by one vote
Lee Nichols, Nov. 8, 2010
More by Richard Whittaker
Telling a love story without the "I love you"
Oct. 7, 2022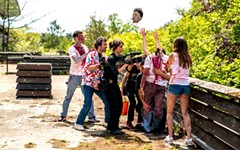 French remake of beloved Japanese movie-making comedy adds a little
Sept. 30, 2022
KEYWORDS FOR THIS POST
Elections, Election 2010, 2010 Primaries, Democrats, Republicans, Paul Workman, Holly Turner, Valinda Bolton, Diana Maldonado
MORE IN THE ARCHIVES