Primary Filings: The Democrats
Breaking down the election filings for the Dems
It will be a slow March 2 for the Travis County Democratic Legislative delegation, but with filing for the 2010 primaries closing last night, it's clear that there will be plenty of jostling at the top and bottom of the Democratic ticket in Texas this year. So who is headed to the donkey races?
Statewide
In the governor's race, the heavy attention has been paid to Houston's ex-mayor (and party favorite) Bill White and hair care king Farouk Shami. But there are also phsyician Alma Ludivina Aguado, teacher Felix Alvarado (this is, of course, unless his filing check bounces), private investigator Bill Dear, Prairie View A&M associate professor Clement E. Glenn and Port Aransas rancher Star Locke to contemplate. Anyone want to say "run-off"?
There may be a similar issue in the lieutenant governor race, but for different reasons. Former Travis County DA Ronnie Earle has a lot of name recognition, but that could cut both ways, while former Texas AFL-CIO executive vice-president Linda Chavez Thompson is expected to play strongly among unions and Hispanic voters. That leaves Austin's own Marc Katz squaring the circle of how his commitment to running a campaign on small donations has resulted in "campaign pledges totaling in the millions."
As for the state agencies, the agriculture commissioner race between Hank Gilbert and Kinky Friedman has been joined by a land commissioner punch-up between former Henderson County Justice of the Peace Bill Burton and ex-state senator Hector Uribe, while Jeff Weems is the sole contender for Railroad Commissioner and Barbara Ann Radnofsky gets ready for her November challenge to Attorney General Greg Abbott. That all means the Democrats couldn't find anyone to take on Comptroller Susan Combs, but then who would want to be in charge of the state's coffers for the next few years?
Congress
John Sharp is left sitting on his hands, waiting to see if/when Sen. Kay Bailey Hutchison vacates her seat. No Dem dared challenge Lloyd Doggett, but there are some Democrats willing to take shots at the local GOP incumbents. 2006 also-ran Ted Ankrum decided to re-run where angels (and Dan Grant and Larry Joe Doherty) fear to tread by taking on Congressman Mike McCaul in CD-10, while Lainey Melnick will take on Lamar Smith in November in CD-21.
Legislature
Far from shockingly, every member of the Travis County delegation refiled, and every one goes without a primary challenger. This may be final proof that the once-controversial Rep. Dawnna Dukes is officially back in the tent.
State Board of Education
The two SBOE districts that divide Travis County used to be sleepy seats, below the radar, until Republican Cynthia Dunbar stretched credibility and science. With her stepping down, Judy Jennings loses her expected November opponent while retaining her unopposed nomination position in district 10, but a four-way race in district 5 between Robert Bohmfalk, Rebecca Bell-Metereau, Josiah Ingalls and Daniel Boone means Democratic primary voters will be forced to do some candidate research.
State and District Court
Kurt Kuhn gets a straight shot at Jan Patterson's 3rd Court of Appeals place 4 seat, but Patterson now faces Amy Clark Meachum, who swapped late from the 353rd to the 201st. Considering that it was Patterson's maneuverings to be appointed to the late Scott Ozmun's 353rd seat that set Democratic faithful against her, it's noteworthy that only Tim Sulak is left in that race. Meanwhile, David Crain and Keith Lauerman duke it out in the 331st.
The busiest race may be the 299th: Karen Sage had looked liked the front runner, but with Leonard Martinez, Eve Schatelowitz Alcantar and now Mindy Montford on board, it may be too close to call.
County
It's hard to get anyone excited this far down the ballot, and since there's no straight-ticket voting in primaries, these races will come down to hard slogs and small turnouts. The long-awaited County Court at Law #3 race between John Lipscombe and Olga Seelig has already got ugly, with Seelig supporters going negative fast. Amazingly, the Justice of the Peace races got competitive, with Daniel Bradford vs. Yvonne M. Williams in precinct 1, Karin Crump vs. Fidel "Ace" Acevedo in 2, and Herb Evans fighting off Richard Glasheen in 5. Then, of course, there's the county commissioner punch-up between Margaret Gomez and Raul Alvarez.
Got something to say? The Chronicle welcomes opinion pieces on any topic from the community. Submit yours now at austinchronicle.com/opinion.
A note to readers: Bold and uncensored, The Austin Chronicle has been Austin's independent news source for over 40 years, expressing the community's political and environmental concerns and supporting its active cultural scene. Now more than ever, we need your support to continue supplying Austin with independent, free press. If real news is important to you, please consider making a donation of $5, $10 or whatever you can afford, to help keep our journalism on stands.
READ MORE
More Democrats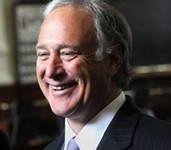 Travis County senator to replace San Antonio's Van de Putte
Richard Whittaker, June 28, 2011
Talk of tables and access raises committee questions
Richard Whittaker, Dec. 15, 2010
More Elections
Election shenanigans erupt on Facebook over weekend
Brant Bingamon, Nov. 7, 2022
Find your nearest polling location and know what to bring with you
Oct. 14, 2019
More by Richard Whittaker
Fortune and glory awaits you at Barton Creek Square this weekend
June 1, 2023
ATX TV Festival respects writers as they work and protest
June 2, 2023
KEYWORDS FOR THIS POST
Democrats, Elections, 2010 Primaries, Election 2010, Mark Strama, Bill White
MORE IN THE ARCHIVES