Kinky's Questions
Campaign consultant Colin Strother explains the Friedman Dem race switch
So why has Democrat Kinky Friedman jumped into the agriculture commissioner's race? An interesting conversation with Kinky's campaign consultant Colin Strother (best known locally as ex-campaign boss for Rep. Dawnna Dukes, D-Austin) fills in a lot of the blanks.
First up, before switching, Kinky met with both remaining major Democratic names in the governor's race – Bill White and Farouk Shami – over the weekend (on a related note, Shami's campaign staff issued a press release at midday saying he'd filed today, then retracted the announcement at 2pm). However, it may have been his conversations with former ag commissioner (and Chronicle regular) Jim Hightower that really swung it for him.
So why ag, and not land commissioner, as had been speculated? Strother said, "As we were sitting down and evaluating where Kinky's goals and interests lie, it seemed like a good fit. He cares very passionately about land conservation and beaches and veterans, but the most important thing (for that race) is that we have a strong Democratic presence on the redistricting commission." That's going to be a pivotal part of the land job for the next legislative cycle and, Strother said, Kinky thought that there were better qualified candidates for that role.
As mentioned earlier, the close personal connections between Shami, Gilbert and Kinky could make life complicated, and Strother confirmed that when he said, "Kinky considers [Farouk] like a brother." Now that both men changed races, he added, "I don't think much changes for Kinky. I think it changes a lot for Gilbert." Clearing the path for a White/Shami fight could also clear some animosity the party rank-and-file felt over his 2006 gubernatorial run. Strother said, "It answers the question of, 'What are Kinky's motivations? If it was all about Kinky, we'd still be in the governor's race, raising as much hell as possible, probably forcing a run-off and forcing a lot of money to be wasted that could be spent against a Republican in November."
So now he has to fight fellow populist-progressive Gilbert head-on. While saying that Kinky isn't prepared to go negative, he pointed to his candidate's fund-raising prowess in his gubernatorial run and his name recognition over the rancher as a big boost to the ticket. He added, "We don't just need everybody in the boat. We need everybody in the boat with an oar, rowing in the same direction."
So why Kinky over incumbent Republican Commissioner Todd Staples? Considering his support for the Trans-Texas Corridor, as well as seemingly standing by as the agriculture industry has collapsed into drought and debt, Strother said, "The difficult question for Todd is, 'Why me?'"
Got something to say? The Chronicle welcomes opinion pieces on any topic from the community. Submit yours now at austinchronicle.com/opinion.
A note to readers: Bold and uncensored, The Austin Chronicle has been Austin's independent news source for over 40 years, expressing the community's political and environmental concerns and supporting its active cultural scene. Now more than ever, we need your support to continue supplying Austin with independent, free press. If real news is important to you, please consider making a donation of $5, $10 or whatever you can afford, to help keep our journalism on stands.
READ MORE
More Election 2010
Could Dan Neil challenge the HD48 result?
Richard Whittaker, Dec. 8, 2010
Dist. 48 incumbent increases lead by one vote
Lee Nichols, Nov. 8, 2010
More 2010 Primaries
Quick hits on the House run-offs around the state
Richard Whittaker, April 15, 2010
Patterson's Perry links scupper her district court plan
Michael King, March 3, 2010
More by Richard Whittaker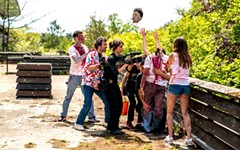 French remake of beloved Japanese movie-making comedy adds a little
Sept. 30, 2022
Wall-to-wall Godzilla in the new show, opening tonight
Sept. 30, 2022
KEYWORDS FOR THIS POST
Election 2010, 2010 Primaries, Hank Gilbert, Farouk Shami, Kinky Friedman, Jim Hightower, Todd Staples
MORE IN THE ARCHIVES