Save the Teachers
Dukes amends HB 3 so re-purposed schools can keep their strongest asset
So imagine you're trying to save a failing steelworks, and you hire all the best steelworkers you can, and they start edging towards a profit, but suddenly your investors say, "Hey, we like the idea of a profit, but you've got to sack 75% of all those really talented steelworkers you've hired."
Replace "steelworks" with "school", "steelworkers" with "teachers", and "profit" with "academically acceptable status" and you've got the Texas school accountability system. So Rep. Dawnna Dukes, D-Austin, got an amendment added to House Bill 3 that dumps the requirement that when a school is re-purposed, no matter what the current staff have achieved, 75% of the teachers must go, removing an incentive for good staff to stay. "They did not want to be the last man standing, God forbid, if that school closed," Dukes said. The new version gives principals leeway to keep their qualified staff.
So how does she feel about the bill? "This was a good day for us," she said. With both House and Senate having some variant of language making the reforms effective immediately, there's definitely some hope for Pearce Middle School, which risks closure this year. "This bill is definitely not a dark cloud," she added.
Got something to say? The Chronicle welcomes opinion pieces on any topic from the community. Submit yours now at austinchronicle.com/opinion.
A note to readers: Bold and uncensored, The Austin Chronicle has been Austin's independent news source for over 40 years, expressing the community's political and environmental concerns and supporting its active cultural scene. Now more than ever, we need your support to continue supplying Austin with independent, free press. If real news is important to you, please consider making a donation of $5, $10 or whatever you can afford, to help keep our journalism on stands.
READ MORE
More Texas House of Representatives
13 felonies gone, two misdemeanors resolved
Richard Whittaker, Oct. 24, 2017
HISD rejects making school finance payments
Richard Whittaker, Nov. 15, 2016
More 81st Legislature
Lt. Gov. Dewhurst makes surprise committee switches
Richard Whittaker, July 14, 2010
Examining the new House committees on state spending
Richard Whittaker, Jan. 13, 2010
More by Richard Whittaker
Telling a love story with the "I love you"
Oct. 7, 2022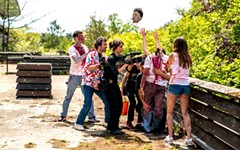 French remake of beloved Japanese movie-making comedy adds a little
Sept. 30, 2022
KEYWORDS FOR THIS POST
Texas House of Representatives, 81st Legislature, Education, Dawnna Dukes, School Accountability, HB 3
MORE IN THE ARCHIVES