Spelman and Riley Launch Campaigns
Council candidates kick off council runs in traditional style: with nibbles
What's campaign season without free nachos and sausage slices on a cocktail stick?
Bill Spelman had his official return-to-council campaign kick-off last night down at Scholz Garten. So far, the LBJ School of Public Affairs professor is the only person running for Mayor Pro Tem Brewster McCracken's Place 5 seat, which Spelman held from 1997 to 2003. Attendees for the bash included an array of familiar local political names, including Mark Yznaga, Tim Mahoney, Jack Kirfman and Margot Clarke (who had her own unsuccessful shot at Place 5 in 2003.)
Back in 1997, the Chronicle gave a joint endorsement to Spelman and his opponent Bobbie Enriquez. Spelman received some criticism for breaking what some saw as the "gentleman's agreement" that Place 5 was the 'reserved' Hispanic seat on the council, but soon gained a reputation as an guiding voice on council on controlled development and departmental accountability.)
For those interested in political launches in local iconic eateries, Place 1 candidate Chris Riley will be having his campaign kick-off at Threadgill's World Headquarters, 301 W. Riverside at 6pm tonight, Jan. 23.
Got something to say? The Chronicle welcomes opinion pieces on any topic from the community. Submit yours now at austinchronicle.com/opinion.
A note to readers: Bold and uncensored, The Austin Chronicle has been Austin's independent news source for over 40 years, expressing the community's political and environmental concerns and supporting its active cultural scene. Now more than ever, we need your support to continue supplying Austin with independent, free press. If real news is important to you, please consider making a donation of $5, $10 or whatever you can afford, to help keep our journalism on stands.
READ MORE
More City Council
Advocates for low-income tenants urge a go-slow approach
Maggie Q. Thompson, June 13, 2022
But many hours of deliberation over two days on the dais
Austin Sanders, Aug. 13, 2021
More Council Elections
Updated: Mayoral rumors swirl as successors line up
Richard Whittaker, Feb. 21, 2013
Downtown advocate announces run in '09
Richard Whittaker, Dec. 17, 2008
More by Richard Whittaker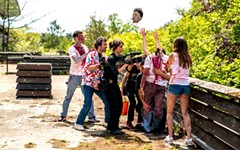 French remake of beloved Japanese movie-making comedy adds a little
Sept. 30, 2022
Wall-to-wall Godzilla in the new show, opening tonight
Sept. 30, 2022
KEYWORDS FOR THIS POST
City Council, Council Elections, Bill Spelman, Chris Riley, Scholz Garten, Threadgills
MORE IN THE ARCHIVES