Reefer: Commutations for Two Texas Border Patrol Agents
Before leaving the building, Bush today commuted the sentences of two Texas Border Patrol Agents who shot a man in the ass
By Jordan Smith, 5:21PM, Mon. Jan. 19, 2009
In what was likely his last act of clemency before turning off the lights and closing the door on his eight years in office, President George W. Bush today commuted the prison sentences of the two U.S. Border Patrol agents convicted of shooting a man in the back and covering up the crime.
Agents Ignacio Ramos and Jose Campean were each sentenced to more than 10 years in federal prison in connection with the 2005 shooting of Osvaldo Aldrete Davila near Fabens. According to Ramos and Campean, the pair caught Davila with a van load of pot near the border. Davila fled toward the Rio Grande, yet, fearing that he was armed, they said, they fired upon him, hitting him in the ass. Federal prosecutors were skeptical – for starters, there wasn't any firm connection between Davila and that load of dope. But more disturbing was that Ramos and Campean failed to report the incident and actually took steps to cover the crime, picking up spent shell casings left at the scene. Ultimately the pair was convicted (and their convictions were upheld on appeal), but the story, which should've been about the rogue actions of a pair of federal law enforcement officers, eventually morphed into a story about illegal immigration and how these apparently defenseless agents were trying to stand up against the tide.
Salon's Alex Koppelman wrote a really good story about the case back in 2007. (Koppelman's thoughts on today's commutation news can be found here.)
Bush, perhaps trying to find a safe middle between those who thought the two were heroes and should be pardoned, and those who saw this as a crime, chose not to pardon the two. Indeed, the pair won't be released until March and will be subject to three years supervision as part of the commutation deal.
A note to readers: Bold and uncensored, The Austin Chronicle has been Austin's independent news source for almost 40 years, expressing the community's political and environmental concerns and supporting its active cultural scene. Now more than ever, we need your support to continue supplying Austin with independent, free press. If real news is important to you, please consider making a donation of $5, $10 or whatever you can afford, to help keep our journalism on stands.
READ MORE
More Marijuana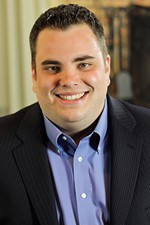 State rep's stoner past comes out in primary
Richard Whittaker, Dec. 30, 2015
High Profits, by Austin's Bat Bridge Entertainment, debuts
Marjorie Baumgarten, April 19, 2015
More Drug War
Million Marijuana March this Saturday in Austin
Jordan Smith, May 1, 2014
Retired Supreme Court judge weighs in on pot prohibition
Jordan Smith, April 25, 2014
More by Jordan Smith
Motoreum's Yusuf & Antonio talk about the biz and their reality TV debut
May 22, 2014
Musical chairs at Downtown HQ
May 9, 2014
KEYWORDS FOR THIS POST
Drug War, marijuana, Osvaldo Davila, Jose Campean, Ignacio Ramos
MORE IN THE ARCHIVES