Logo Throwdown: Place ? Edition
Moving on to what's really important
By Wells Dunbar, 2:39PM, Thu. Jan. 15, 2009
While neither Perla Cavazos, Rick Cofer, or Chris Riley has formally announced which City Council seat they're running for (Lee, you're killing us!), the candidates are already trying to drawing distinctions from one another on the important issues of the day. But really, who cares about all that? Not when we can discuss the candidates' logos!
Cavazos site seems like a work in progress, and as the following only appears once there, at a low-res, we're making a leap in assuming this to be the official logo. But we like what we see.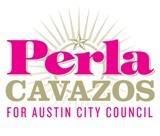 The pink, aside from instantly transmitting Cavazos gender to voters, also subtly speaks to her Hispanic heritage through the southwestern color selection, while the star and type toughen things up a notch …
Rick Cofer's logo, however, is a little more problematic.
We understand what Cofer's going for here, the deep blue speaking to Cofer's Democratic roots, while the all-caps type and stars strive to convey authority. Just overly so. Dare I say it (sorry Rick), there's something almost Republican about the logo, like it belongs on the back of a mudded-up late-model pickup parked on a frat lawn in the West Campus.
Which brings us to the most unassailable design of the three, Chris Riley's (designed, it's noted, by a professional firm).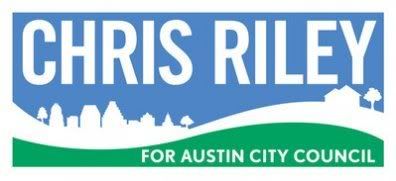 It's got the blues and greens you'd expect of a progressive candidate, and a Coca-Cola swoosh hidden in there too, separating Downtown from the single family residence atop the hill. That's the only downside here, the quasi-suburban messaging of the home standing so separately from the urban core. Subliminal messaging for the neighborhood association vote? Anyway, congrats Chris, as you win this early challenge. The race is now yours to lose.
Got something to say? The Chronicle welcomes opinion pieces on any topic from the community. Submit yours now at austinchronicle.com/opinion.
A note to readers: Bold and uncensored, The Austin Chronicle has been Austin's independent news source for over 40 years, expressing the community's political and environmental concerns and supporting its active cultural scene. Now more than ever, we need your support to continue supplying Austin with independent, free press. If real news is important to you, please consider making a donation of $5, $10 or whatever you can afford, to help keep our journalism on stands.
READ MORE
More Elections
Find your nearest polling location and know what to bring with you
Oct. 14, 2019
A quick guide to the propositions you'll be yea-ing or nay-ing
Sarah Marloff, Oct. 11, 2019
More Election 2009
Annise Parker is the new mayor of Houston!
Lola Houston, Dec. 13, 2009
Maine lost gay marriage for the time being. But there was progress. Honest.
Frank J. Rivera, Nov. 4, 2009
More by Wells Dunbar
Jan. 6, 2012
To the beating hearts of a great city
Dec. 30, 2011
KEYWORDS FOR THIS POST
Elections, Election 2009, City Council, Perla Cavazos, Rick Cofer, Chris Riley, Logos, Logo Throwdown
MORE IN THE ARCHIVES