Beyond the Hall, Y'all – Breaking With Convention
The Hustle leaves City Hall to take in an Obama watch party, gabbing with state reps Eddie Rodriguez, Elliott Naishtat, and other Barack boosters.
By Wells Dunbar, 1:01AM, Fri. Aug. 29, 2008
Okay, so it ain't Denver – but the Hustle observes the Obama acceptance speech alongside progressive PAC Annie's List at their watch party at the Belmont Downtown. State Reps. Eddie Rodriguez and Elliott Naishtat are in the house, along with some outré convention clips you probably missed. It's way beyond the hall!
A note to readers: Bold and uncensored, The Austin Chronicle has been Austin's independent news source for almost 40 years, expressing the community's political and environmental concerns and supporting its active cultural scene. Now more than ever, we need your support to continue supplying Austin with independent, free press. If real news is important to you, please consider making a donation of $5, $10 or whatever you can afford, to help keep our journalism on stands.
READ MORE
More Video
Everything you wanted to know about our new video-interview series – but were afraid to ask
Wells Dunbar, April 22, 2009
More Democrats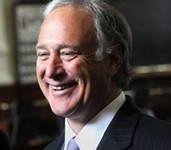 Travis County senator to replace San Antonio's Van de Putte
Richard Whittaker, June 28, 2011
Talk of tables and access raises committee questions
Richard Whittaker, Dec. 15, 2010
More by Wells Dunbar
Jan. 6, 2012
To the beating hearts of a great city
Dec. 30, 2011
KEYWORDS FOR THIS POST
Video, Democrats, Election 2008, Barack Obama, Eddie Rodriguez, Elliott Naishtat, Legislature, Annie's List
MORE IN THE ARCHIVES