Begala Blusters About Biden
Clinton confidante complains that Hillary was not deeply involved in vice-presidential selection process.
UT alum and professional Clintonite Paul Begala is a nice, intelligent guy and an astute electoral campaign professional. But his complaint about the fact that the Obama campaign dared to pick someone other than Hillary Clinton as his vice-presidential running mate sounds like an early script draft for the latest John McCain TV spot.
Begala (who, let us remember, is one of the guys that Jon Stewart so memorably reamed out on Crossfire), told CNN on Friday, "I think there are a lot of Hillary voters who are going to say, 'Hey, wait a minute, man. You said you were going to put her on the short list. You know, you didn't even vet her. You didn't call her. You didn't seek her advice.'" He then went on to complain that Obama's people didn't ask Bill's opinion either.
Of course, Begala misses a couple of cardinal points, not least that one of the biggest selling points the Clinton campaign floated for their candidate was that she was pre-screened during Ken Starr's whole impeachment fishing expedition. Of course, he has to complain about the selection process, because the voting differences between Sen. Joe Biden and his own EX-candidate (who, if anyone need be reminded, sent her campaign into vast debt to invest in scorched-earth anti-Obama tactics) are marginal.
But if one sneaking issue was accidentally raised by the (H.) Clinton campaign, it's this: That Bill's presidency was not that good.
By comparison to what came before and after, it was stellar. But there's still a distaste that remains for many about his championing of the Third Way (i.e. concessionary centrism.) Hillary sold her candidacy on the basis that she was a factor in the presidency: so which bit was she taking credit for? The Defense of Marriage Act? The unconstitutional internet law Bill signed, or the extension of the death penalty? The loss of the House and Senate? The total failure to pass meaningful healthcare reform? And it could be that, the fate of the legislation which her pre-senate political was most linked to, which is most damning for her.
Well, at least Bill didn't try to strong-arm the video gaming industry with the Lieberman co-sponsored Family Entertainment Protection Act. Oh, no, wait, Hillary did that. Oops.
A note to readers: Bold and uncensored, The Austin Chronicle has been Austin's independent news source for almost 40 years, expressing the community's political and environmental concerns and supporting its active cultural scene. Now more than ever, we need your support to continue supplying Austin with independent, free press. If real news is important to you, please consider making a donation of $5, $10 or whatever you can afford, to help keep our journalism on stands.
READ MORE
More Democrats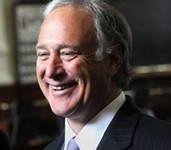 Travis County senator to replace San Antonio's Van de Putte
Richard Whittaker, June 28, 2011
Talk of tables and access raises committee questions
Richard Whittaker, Dec. 15, 2010
More Elections
Find your nearest polling location and know what to bring with you
Oct. 14, 2019
A quick guide to the propositions you'll be yea-ing or nay-ing
Sarah Marloff, Oct. 11, 2019
More by Richard Whittaker
How Chris Baugh raised the evil of Irish vampire
May 7, 2021
Fundraiser aims for $150,000 to get us all back to the movies
May 6, 2021
KEYWORDS FOR THIS POST
Democrats, Elections, Paul Begala, Barack Obama, Joe Biden, Bill Clinton, Hillary Clinton
MORE IN THE ARCHIVES