Democratic Block Party Tonight
Mark Strama speaking at Travis Co. Dems' party tonight
By Wells Dunbar, 3:42PM, Tue. Jul. 22, 2008
As part of their efforts to turn Texas blue, the Travis County Dems are hosting a party at their East Austin digs. The throwdown is tonight, 7–9pm, at Democratic Campaign Headquarters (1107 North IH-35, on the corner of 12th street & IH-35, next to CVS pharmacy). Aside from the food and festivities, expect an appearance from Rep. Mark Strama. Woot!

Below the fold, the full press release.
MEDIA ADVISORY

Austin — The Travis County Democratic Party is proud to celebrate historic East Austin. Since launching the coordinated campaign, the Travis County Democratic Party has blockwalked a half dozen East Austin neighborhoods, phonebanked voters and activists in nearly two dozen precincts, and reached out to all Travis County and Austin Elected officials. During this historic election, the Travis County Democratic Party is working to Turn Texas Blue by actively engaging every community and encouraging East Austin to register to vote and mobilize the community.

The 2008 Travis County Democratic Party Coordinated Campaign marks the largest coordinated effort to elect every candidate from the White House to the Courthouse. The campaign has started earlier than ever before and has the laudable goal of knocking on every door and call every number in East Austin.

WHO: Travis County Democratic Party is proud to celebrate the first ever East Austin Block Party

WHAT: East Travis County Block Party
Travis County Democratic Party
Live Music & Free Food

WHEN: Tuesday, July 22 7:00 – 9:00pm

WHERE: Democratic Campaign Headquarters
1107 North IH-35
Austin, TX 78702
(corner of 12th street & IH-35, next to CVS pharmacy)
A note to readers: Bold and uncensored, The Austin Chronicle has been Austin's independent news source for almost 40 years, expressing the community's political and environmental concerns and supporting its active cultural scene. Now more than ever, we need your support to continue supplying Austin with independent, free press. If real news is important to you, please consider making a donation of $5, $10 or whatever you can afford, to help keep our journalism on stands.
READ MORE
More Democrats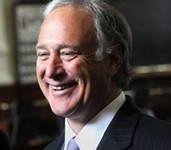 Travis County senator to replace San Antonio's Van de Putte
Richard Whittaker, June 28, 2011
Talk of tables and access raises committee questions
Richard Whittaker, Dec. 15, 2010
More Elections
Find your nearest polling location and know what to bring with you
Oct. 14, 2019
A quick guide to the propositions you'll be yea-ing or nay-ing
Sarah Marloff, Oct. 11, 2019
More by Wells Dunbar
Jan. 6, 2012
To the beating hearts of a great city
Dec. 30, 2011
KEYWORDS FOR THIS POST
Democrats, Elections, Travis County Democratic Party, mark Strama
MORE IN THE ARCHIVES