Richies for Obama
TDP chair and his wife back Obama, tying him in TX superdelegates with Clinton
Big news (and bad for the Clinton crowd): Texas Democratic Party chair Boyd Richie and his wife Betty Richie, both superdelegates, have officially endorsed Sen. Barack Obama.
But why is this latest paired announcement so important? Because, with a week to go before the state convention, the party head honcho has made a definite statement, and tied the two presidential candidates in declared Texas superdelegates (14-14, with 4 hold-outs.) While he talked about his "great respect for Senator Clinton and her Texas supporters," Boyd reiterated what many other observers have said: that Obama has a better grass-roots campaign that can be turned into the essential get-out-the-vote operation, and that benefits other Democrats running in November.
Which is something the Clintons might have a difficult time arguing against. After all, having a Clinton in the White House didn't have such a great down-ballot effect in the Congressional elections in 1994. Or 1996. Or 1998.
So, the question now is whether the Clinton campaign and its proxies will accuse the Richies of being traitors or of driving away the Hispanic vote.
See below the jump for Boyd's full statement.
Today, I am proud to announce my support for Senator Barack Obama for President of the United States. I believe Senator Obama is the candidate who can best provide the leadership and change Texans desire. Too many Texas families find themselves unable to make ends meet, much less save and invest in the future, due to Republican policies that burden the middle class and divide Americans. Senator Obama has the skill and ability to unite Americans from all walks of life and put our country back on the right track.

I am also grateful for Senator Obama's commitment to help build the Texas Democratic Party. Senator Obama and his campaign understand something that Texans have known for at least a couple of years – that when Democratic candidates invest the time and resources necessary, Texas Democrats have the numbers to compete and win across every region of our great state. We made progress in 2006, and in 2008, the Texas Democratic Party is more energized, better organized, and we are poised to make significant gains this fall.

This was a difficult decision to make, because I have great respect for Senator Clinton and her Texas supporters. I sincerely appreciate how hard she worked in Texas to deliver a message that resonated with so many voters, and I commend her campaign and the important role she played in the historic participation our Party is experiencing this year. As always, the Texas Democratic Party will conduct party business with absolute fairness and respect for every Democrat, without regard to whom one supports in the primary or convention, and I am confident Texas Democrats will unite and work together side by side to win this November.
Got something to say? The Chronicle welcomes opinion pieces on any topic from the community. Submit yours now at austinchronicle.com/opinion.
A note to readers: Bold and uncensored, The Austin Chronicle has been Austin's independent news source for over 40 years, expressing the community's political and environmental concerns and supporting its active cultural scene. Now more than ever, we need your support to continue supplying Austin with independent, free press. If real news is important to you, please consider making a donation of $5, $10 or whatever you can afford, to help keep our journalism on stands.
READ MORE
More Elections
Election shenanigans erupt on Facebook over weekend
Brant Bingamon, Nov. 7, 2022
Find your nearest polling location and know what to bring with you
Oct. 14, 2019
More Democrats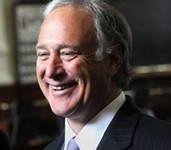 Travis County senator to replace San Antonio's Van de Putte
Richard Whittaker, June 28, 2011
Talk of tables and access raises committee questions
Richard Whittaker, Dec. 15, 2010
More by Richard Whittaker
The big dreams and lost chances of a forgotten exploitation king
Sept. 24, 2023
Rise and fun-fulfilled legacy of America's first haunted attraction
Sept. 24, 2023
KEYWORDS FOR THIS POST
Elections, Democrats, Texas Democratic Party, Barack Obama, Hilary Clinton, Boyd Richie, Betty Richie
MORE IN THE ARCHIVES