Stephanopoulos and Hannity, Sitting in a Tree
ABC's presidential debate host steers clear of policy
So who came out of the 21st Democratic Presidential debate looking worst? Hillary Clinton? Barack Obama? How about George Stephanopoulos?
How Steph, as a former Clinton White House staffer, passed the 'conflict of interest' question that should be asked of any moderator is important enough. But he then went on to question Obama about his links to former Weather Underground member (now professor at the University of Illinois at Chicago) William Ayers: A question, as MSNBC's Keith Olbermann has pointed out, that was spoon-fed to Steph by Fox News' Shawn Hannity and New York-based Fox-wannabe Steve Malzberg.
More than a few people, including anyone that had endured his ABC show, had written him off as an affable bumbler (either his "virgin in a bordello"-style autobiography All Too Human was self-serving or he was the most naive person to ever step into the Oval Office). But his substance-free approach Wednesday (Obama doesn't wear a flag lapel pin! Erm, Steph, neither did Washington, Lincoln, FDR, or Teddy Roosevelt) seemed especially weak at this stage in the race.
FYI, as Obama pointed out, his involvement with Ayers was that they sat on the non-partisan philanthropic Woods Fund of Chicago: Bill Clinton pardoned Susan Rosenberg and Linda Evans, two of Ayers' fellow Weather Underground members, who served 16 years for transporting explosives.
A note to readers: Bold and uncensored, The Austin Chronicle has been Austin's independent news source for almost 40 years, expressing the community's political and environmental concerns and supporting its active cultural scene. Now more than ever, we need your support to continue supplying Austin with independent, free press. If real news is important to you, please consider making a donation of $5, $10 or whatever you can afford, to help keep our journalism on stands.
READ MORE
More Democrats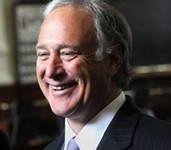 Travis County senator to replace San Antonio's Van de Putte
Richard Whittaker, June 28, 2011
Talk of tables and access raises committee questions
Richard Whittaker, Dec. 15, 2010
More Election 2008
Texans for Public Justice file ethics complaint about former speaker
Richard Whittaker, Oct. 7, 2009
Last November's CD-10 challenger was the "biggest loser"
Lee Nichols, Jan. 27, 2009
More by Richard Whittaker
New images from the Austin-made series for Netflix
May 13, 2021
Festival announces partnership and programming for the streamer
May 13, 2021
KEYWORDS FOR THIS POST
Democrats, Election 2008, 2008 Primaries, George Stephanopoulos, Hillary Clinton, Barack Obama
MORE IN THE ARCHIVES