The Clinton Two-Step
Will the pro-superdelegate, anti-caucus logics of the Clinton camp trip them up?
From even before the primary vote, Clinton-boosters in Texas (including Bill Clinton, when he dropped by the UT campus) have been bandying around the idea that Hillary Clinton will somehow be cheated out of winning Texas because she won the popular vote but lost in the precinct and county caucuses. Outgoing Travis County Democratic Party chair Chris Elliott (himself a now-admitted Obama man) has a response to that. "The Clinton folks don't like the caucus. Well, look how the national process will go, where they will be reaching out to the superdelegates." he said. "Saying that the caucus is subverting the will of the people is diametrically opposite to what they'll be saying come the convention."
Elliott notes that one of the chief complainants about the rules is none other than Clinton's Texas campaign capo dei capi, former land commissioner Gary Mauro (who got so irate about how the system worked that he threatened to sue the party. Which is kind of funny, considering that, as Elliott points out, Mauro helped write those rules in the first place.)
A note to readers: Bold and uncensored, The Austin Chronicle has been Austin's independent news source for almost 40 years, expressing the community's political and environmental concerns and supporting its active cultural scene. Now more than ever, we need your support to continue supplying Austin with independent, free press. If real news is important to you, please consider making a donation of $5, $10 or whatever you can afford, to help keep our journalism on stands.
READ MORE
More Democrats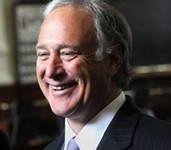 Travis County senator to replace San Antonio's Van de Putte
Richard Whittaker, June 28, 2011
Talk of tables and access raises committee questions
Richard Whittaker, Dec. 15, 2010
More 2008 Primaries
House GOP incumbent ends legal challenge to March loss to former New Braunfels mayor
Richard Whittaker, May 19, 2008
ABC's presidential debate host steers clear of policy
Richard Whittaker, April 17, 2008
More by Richard Whittaker
Director talks identity, family, and Awkwafina's superpower
July 19, 2019
Can you feel the shrug tonight?
July 19, 2019
KEYWORDS FOR THIS POST
Democrats, 2008 Primaries, Election 2008, Chris Elliot, Gary Mauro, Hillary Clinton
MORE IN THE ARCHIVES