Strother Bother
Dukes' campaign man gets Democratic leadership in arms.
There's a saying that if the press starts talking about a campaign operative, then something's gone wrong. Now even Democratic insiders are wondering whether Colin Strother, the campaign manager for Rep. Dawnna Dukes and spokesman for Democrats for Reform (allegedly a Craddick D front) is helping or hurting his candidate.

Last week, Strother told the Chronicle the only reason that Dukes signed the Democrats for Reform agenda last session was because the House Democratic leadership had failed to provide one. Now House Democratic caucus chair Rep. Jim Dunnam, D-Waco, has called to call Strother's statement "blatantly false": the leadership was working on an agenda (the more extensive Moving Texas Forward, which links policy ideas to filed bills), and that he knew it was coming. Next Philip Martin, then chief of staff for Houston Rep. Garnet Coleman, called to say that he was collating the bill list while Dukes et al were holding their divisive press conference. Strother, when asked, said that he couldn't understand why they were even bothered about this after all this time.
This isn't Strother's first media confrontation: first there was his online dust-up with Matt Glazer at Burnt Orange Report over whether Dukes missed a committee meeting for a trip to Las Vegas (she didn't: she missed it for a trip to San Diego). Then there was this week's brusque exchange of views with KVUE's Elize Hu.
Got something to say? The Chronicle welcomes opinion pieces on any topic from the community. Submit yours now at austinchronicle.com/opinion.
A note to readers: Bold and uncensored, The Austin Chronicle has been Austin's independent news source for over 40 years, expressing the community's political and environmental concerns and supporting its active cultural scene. Now more than ever, we need your support to continue supplying Austin with independent, free press. If real news is important to you, please consider making a donation of $5, $10 or whatever you can afford, to help keep our journalism on stands.
READ MORE
More Legislature
Dietz says current system fails students, must be rebuilt
Richard Whittaker, Aug. 28, 2014
Hail Mary play by AG Abbott fails to force judicial recusal
Richard Whittaker, June 24, 2014
More Elections
Find your nearest polling location and know what to bring with you
Oct. 14, 2019
A quick guide to the propositions you'll be yea-ing or nay-ing
Sarah Marloff, Oct. 11, 2019
More by Richard Whittaker
Telling a love story without the "I love you"
Oct. 7, 2022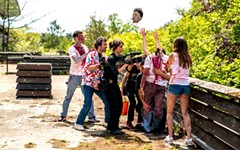 French remake of beloved Japanese movie-making comedy adds a little
Sept. 30, 2022
KEYWORDS FOR THIS POST
Legislature, Elections, Election 2008, Democrats, Colin Strother, Jim Dunnam, Democrats for Reform, Craddick D's, Burnt Orange Report
MORE IN THE ARCHIVES