Patterson Plays Grinch With the Press
Land Commissioner Patterson slips a poison pill in his offer over the Christmas Mountains.
It seemed that yesterday's announcement of a concession deal over the sale of the Christmas Mountains by the General Land Office was going to allow land commissioner Jerry Patterson to put his case to the media. But it can't be described as a good press conference when the speaker has to apologize to the press for being "testy" with them.

In a brittle and fractious press conference Monday afternoon, Patterson announced that the sale of the 9,000 acre abandoned former ranch to private owners will go ahead today as proposed. However, he was going to suggest giving the National Park Service and Texas Parks and Wildlife 90 days to come up with a rival bid. Yet his continued stance that, unless NPS allowed public hunting on the land (which does not occur at the moment) he would not consider their bid, brought tough questioning – especially when he said that he doubted they could come up with a better bid anyway. He then told the assembled media that if they can't come up with a plan in 90 days, "they aren't very interested," without noting the complex legal and administrative issues that bind any land acquisition by either agency.

However, Luke Metzger of Environment Texas called the hunting component of the concession offer "a poison pill" intended to scupper any possibility of NPS ownership.
Before a tough cross-examination, Patterson attacked further unnamed parties for spreading untruths and misconceptions about the almost unreachable stretch of 9,000 acres of remote West Texas. "We are not selling parkland," he said, "and that is a misconception in the eyes of the public. How it got there, I don't know, but I know the reports to date have done nothing to dispel that." (For the record, the Chronicle has never called the Christmas Mountains parkland, and in our reporting stressed that this was, while publicly owned, remote and inaccessible undeveloped terrain.)

When challenged he was endangering the sale by ignoring a term of the original deed stating the Conservation Board (The original donors) must approve any sale, he called the clause unenforceable and retorted. "I'm not honoring five words out of a thousand."

He even had to clarify whether his offer was "meet or exceed" the terms of the winning bid (as it said in the press release) or whether an agency proposal "must provide for a greater level of stewardship and conservation," (as it said in the letters to NPS and TPWD). He finally settled on an answer of "match," before departing.

The winning private bidder will be announced by the School Land Board this morning.
Got something to say? The Chronicle welcomes opinion pieces on any topic from the community. Submit yours now at austinchronicle.com/opinion.
A note to readers: Bold and uncensored, The Austin Chronicle has been Austin's independent news source for almost 40 years, expressing the community's political and environmental concerns and supporting its active cultural scene. Now more than ever, we need your support to continue supplying Austin with independent, free press. If real news is important to you, please consider making a donation of $5, $10 or whatever you can afford, to help keep our journalism on stands.
READ MORE
More State Government
Committee member casts doubt on speaker's deficit proposals
Richard Whittaker, May 12, 2010
Former state rep to head up Texas Facilities Commission
Richard Whittaker, Dec. 17, 2009
More General Land Office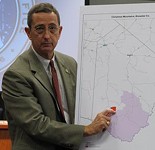 Land Commish Patterson woos potential opponent
Richard Whittaker, Dec. 9, 2009
Jerry Patterson refuses to back down over Christmas Mountains.
Richard Whittaker, Dec. 10, 2007
More by Richard Whittaker
Tech scene and politics get speaker slots, plus WTF is Web3?
Jan. 18, 2022
The monsterific animated franchise lumbers back out of the tomb
Jan. 14, 2022
KEYWORDS FOR THIS POST
State Government, General Land Office, Texas Parks and Wildlife, Christmas Mountains
MORE IN THE ARCHIVES