Texas Drug War Prisoner Will Be Freed
Tyrone Brown: Time Don't Fit the Crime
By Jordan Smith, 4:22PM, Mon. Mar. 12, 2007
Arguably Texas' best-known drug war casualty, Tyrone Brown will soon be released from prison on the terms of a conditional pardon issued by Gov. Rick Perry last week.
Brown was 17 years old when he took part in an armed robbery 17 years ago; no one was injured, and Brown was initially given probation for his role in the crime. However, when a drug test came back positive for marijuana, Brown's probation was revoked and Dallas Co. District Judge Keith Dean sentenced him to life in prison. Dean's actions came into question after The Dallas Morning News reported that the judge's treatment of Brown was far different than his treatment of well-connected murdered John Alexander Wood, who Dean allowed to stay on probation even after Wood repeatedly tested positive for cocaine use – Wood was even allowed to quit taking the drug tests.
The disparity in treatment – which Dean has, to date, declined to explain – prompted a grassroots campaign to free Brown. Finally, on March 9, with the support of the Board of Pardons and Paroles, the Dallas Co. District Attorney's Office and Judge Dean, Perry granted Brown a conditional pardon, meaning Brown will have to meet several requirements – that he live with his mother, Nora, report to a parole officer, get a job, and see a therapist – in order to remain free. Perry declined to grant a full pardon, which the BPP reportedly recommended.
A note to readers: Bold and uncensored, The Austin Chronicle has been Austin's independent news source for almost 40 years, expressing the community's political and environmental concerns and supporting its active cultural scene. Now more than ever, we need your support to continue supplying Austin with independent, free press. If real news is important to you, please consider making a donation of $5, $10 or whatever you can afford, to help keep our journalism on stands.
READ MORE
More Marijuana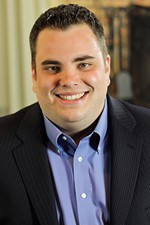 State rep's stoner past comes out in primary
Richard Whittaker, Dec. 30, 2015
High Profits, by Austin's Bat Bridge Entertainment, debuts
Marjorie Baumgarten, April 19, 2015
More Courts
Within two days, courts reject second election map, voter ID bill
Richard Whittaker, Aug. 25, 2017
Do Texas concealed handgun rules break the Second Amendment?
Richard Whittaker, July 7, 2016
More by Jordan Smith
Motoreum's Yusuf & Antonio talk about the biz and their reality TV debut
May 22, 2014
Musical chairs at Downtown HQ
May 9, 2014
KEYWORDS FOR THIS POST
Courts, marijuana, Rick Perry, Board of Pardons and Paroles
MORE IN THE ARCHIVES