South by Oh Snap!
Louis Black sounds off on how much he hates music.
By Wells Dunbar, 12:49PM, Wed. Feb. 28, 2007
I suppose we'd be remiss not to mention this: Over in this Austinist post about SXSW wristband sales, there's plenty of complaints and bellyaching about the festival, to which our humble editor and SXSW co-creator Louis Black chimes in:

"You guys really do nail me. Every ugly word is true. Nick Barbaro and I live in a multimillion dollar Westlake mansion where we wander around all day in our slippers thinking how we can screw Austinites out of even more money. The house is all white – white walls, white furniture, white art – but our slippers are red. There is no music because we hate music!

Sometimes we sit by the pool drowning locals who passed out while waiting on line for wristbands. I wish I was as tough and smart as you guys, but you are all so right, I'm just a juvenile smug egocentric asshole paying slave wages – fat and happy, smug and stupid, neurotic and narcissistic. In fact Nick's only complaint about our quite perfect life together, outside of our lack of house servants (only a couple of dozen) and his routine but unfair accusation that hogging the bodies of the poor and passed out I'm drowning more than my share, is that I read him my column each week over and over and over again, using different voices as well as parts of my body to make sound effects.
And we do SXSW all alone. Just the two of us (of course the slaves help) so that those truck loads of money don't have to be split with anyone. SXSW Managing Director Roland Swenson is too busy helping establish the New World Order and working for international bankers to care. I was surprised that so many of us saw through the ruse of the free Auditorium Shores shows and the many, many doors that are at $5 to realize we make even more money that way.

SXSW happened when one day Roland woke us to point out that there were suddenly 1,600 bands in town and tons of shows and parties. He suggested we invent a character named Brent Grulke (though i still think that name is so obviously made up) and take over everything and steal money. It's worked like a charm.

But damn you folks caught us. I am a bad guy and calling me an egotistical closed-minded jackass doesn't begin to describe what a pig I am. I'm only in it for the money, money, money! I wasn't rubbing my hands with glee, I was rubbing my balls, which I use like an abacus to count that money.

That's right, 2,000 wristbands at $130 and 2,000 at $160 is a million dollars, and it's mine. One big problem is that at any time during any SXSW night there are at least 40-50 clubs you can walk right into, but we're working on closing that loophole.

Now wristbands have been on sale on the Web for weeks, even though not one had been distributed. And now there aren't hundreds being sold online but THOUSANDS!

Wristbands sold out at around noon on Tuesday.

But as smart as you all are, none of you has yet figured out how it is that we make even more money by keeping the price the same as last year (for the $130) and limiting each person to two wristbands you fools!!!"
A note to readers: Bold and uncensored, The Austin Chronicle has been Austin's independent news source for almost 40 years, expressing the community's political and environmental concerns and supporting its active cultural scene. Now more than ever, we need your support to continue supplying Austin with independent, free press. If real news is important to you, please consider making a donation of $5, $10 or whatever you can afford, to help keep our journalism on stands.
READ MORE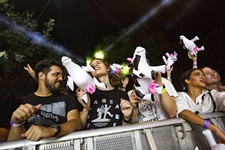 Federal program gave $130 million to over 100 local businesses
Rachel Rascoe, Oct. 22, 2021
Lucasfilm, Patreon, WWE all sending speakers for 2022
Richard Whittaker, Oct. 19, 2021
More by Wells Dunbar
Jan. 6, 2012
To the beating hearts of a great city
Dec. 30, 2011
KEYWORDS FOR THIS POST
MORE IN THE ARCHIVES