The Bright Light Social Hour's States of Isolation
Local psych crew explores alienation in amphibious new vid
By Rachel Rascoe, 9:00AM, Fri. Sep. 7, 2018
Visualization of the Bright Light Social Hour's new single, "Trip With Lola," which previews forthcoming EP Missing Something, required the purchase of a new pet. Specifically, a creature of the Central American red-eyed tree frog variety.
"I wanted to portray the strange wonder of coming out of a state of isolation, exploring the human experience as a total outsider," shares vocalist and multi-instrumentalist Jackie O'Brien, who also directed the clip. "I felt like a frog incarnating itself as a human would really take the sentiment a step further."
"Trip With Lola" soundtracks a mellow, psychedelic riff on The Frog Prince fairy tale and stars Ayshia Collier as the meandering, newly human Lola. Like an alien dropped into the Texas capital, she wanders and prances wide-eyed around Austin, captured over a year by O'Brien and cinematographer Scott Michael Clark.
O'Brien says the reclusive themes were inspired by witnessing their drummer Joseph Mirasole and his own brother Alex O'Brien's experiences with bipolar disorder. The latter served as the band's longtime manager and committed suicide in early 2015, shortly before the release of the group's sophomore long-player, Spaces Is Still the Place.
"Alex's suicide was no doubt a major influence, though these songs deal more with the blinding confusion of living with a brilliant soul quickly descending into psychosis and severe depression, leading up to the moment of his death," explains O'Brien. "It's about the feeling of wanting to help those experiencing depressive isolation while letting them know it's okay to be alone sometimes."
The group self-recorded and produced the new EP at their Lake Travis studio, Escondido Sound. Touring keyboardist Edward Braillif joined as a full-on band member, contributing synth and guitar work, and Spoon drummer Jim Eno mixed it.
"The EP came together quickly," says guitarist and vocalist Curtis Roush. "An easier fluidity allowed us to snapshot our feelings in real time, like a Polaroid."
Offering the established crew's first collection in three years, Missing Something debuts September 28 on Modern Outsider Records.
For its part, the amphibian's name is Snoop Frogg.
A note to readers: Bold and uncensored, The Austin Chronicle has been Austin's independent news source for almost 40 years, expressing the community's political and environmental concerns and supporting its active cultural scene. Now more than ever, we need your support to continue supplying Austin with independent, free press. If real news is important to you, please consider making a donation of $5, $10 or whatever you can afford, to help keep our journalism on stands.
READ MORE
More Bright Light Social Hour
Nash to host TBLSH cameo at Antone's on Wednesday?
Kevin Curtin, Dec. 6, 2016
Local rock troupe hopes to spark today's demonstrations
Chase Hoffberger, July 1, 2013
More by Rachel Rascoe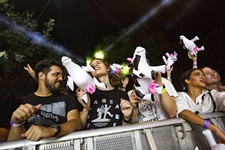 Federal program gave $130 million to over 100 local businesses
Oct. 22, 2021
A conversation with Botany and other cross-genre recs
Oct. 22, 2021
KEYWORDS FOR THIS POST
Bright Light Social Hour, Jackie O'Brien, Alex O'Brien, Edward Braillif, Joseph Mirasole, Curtis Roush, Ayshia Collier, Scott Michael Clark, Spoon, Jim Eno, Modern Outsider Records, Escondido Sound, Snoop Frogg
MORE IN THE ARCHIVES