Hot Luck Review: Peter Hook & the Light
A cover band with substance
By Michael Toland, 9:50AM, Thu. May 24, 2018
Following an acrimonious split with synth pop kings New Order, bassist Peter Hook formed the Light to play songs from the catalogs of both his former band and post-punk icons Joy Division – the other iconic act of which he was a original member.
Seeing the innovative four-stringer fronting a cover band for nostalgic college rock fans seems pathetic on the surface, but given that Hook co-composed each band's music and his distinctive playing often drove the arrangements, he has as much right to play these tracks as anyone. In front of a sold-out Hot Luck crowd, Hook and company did their best to prove that the Light is more than just a cash-grab with two sets, each centered on his former outfits' identically-named singles comps, Substance.
During the first, New Order-oriented set, the Manchester native's deep, craggy voice proved ill-suited to songs originally sung in a boyish Britpop croon — a disconnect made more obvious when guitarist David Potts's authentic boyish croon took the mic. Also, so many of New Order's hits revolve around electronics and sequencers that they left Potts and drummer Paul Kehoe standing idle. A bizarrely aggressive couple making trouble near the front of the stage didn't help - Hook had them ejected.
Fortunately, the mostly middle-aged crowd responded to hits "Bizarre Love Triangle" and "Blue Monday" plus deep cut "Dreams Never End" with unbridled joy. Hook's no Bernard Sumner, but he knows what his people want.
Joy Division's more guitar-oriented attack better exploited the interplay between Hook, Potts, and Hook's bassist son Jack Bates throughout set two. Early tune "Warsaw" bristled with aggression, while later period track "Digital" reflected JD's more influential, stripped-down sound with a singalong chorus to boot. Possessing the same range as late original vocalist Ian Curtis, Hook sounded far more confident handling the slow burn anthem "Atmosphere" than he did with any New Order material.
The audience exploded at the first notes of final song "Love Will Tear Us Apart" - the classic that launched a thousand bands garnering the biggest response of the night. The Light may be just a glorified cover band, but since a good time was had by all, maybe it didn't need to be anything else.
Set 1 (New Order):
"Dreams Never End"
"Age of Consent"
"Ceremony"
"Everything's Gone Green"
"Temptation"
"Blue Monday"
"Confusion"
"Thieves Like Us"
"The Perfect Kiss"
"Subculture"
"Shellshock"
"State of the Nation"
"Bizarre Love Triangle"
"True Faith"
Set 2 (Joy Division):
"Turn the Heater On"
"A Means To An End"
"Twenty Four Hours"
"Warsaw"
"Leader of Men"
"Digital"
"Autosuggestion"
"Transmission"
"She's Lost Control"
"Incubation"
"Dead Souls"
"Atmosphere"
"Love Will Tear Us Apart"
A note to readers: Bold and uncensored, The Austin Chronicle has been Austin's independent news source for over 40 years, expressing the community's political and environmental concerns and supporting its active cultural scene. Now more than ever, we need your support to continue supplying Austin with independent, free press. If real news is important to you, please consider making a donation of $5, $10 or whatever you can afford, to help keep our journalism on stands.
READ MORE
More Peter Hook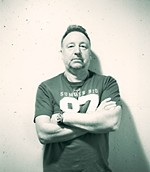 Joy Division/New Order bassist resurrects two classic LPs
Richard Whittaker, Sept. 17, 2013
More by Michael Toland
For the love of "hate rock"
May 15, 2022
Girl Ultra, Nori with strings, Maxo Kream, Mudhoney, Little Mazarn, and more recommended shows
May 13, 2022
KEYWORDS FOR THIS POST
Peter Hook, Peter Hook & the Light, Hot Luck, New Order, Joy Division, Bernard Sumner, Ian Curtis, Jack Bates
MORE IN THE ARCHIVES