Immortal Guardian Prepares for Revolution
Mobile prog/extreme metal quintet takes to the streets
By Kevin Curtin, 1:47PM, Mon. Mar. 24, 2014
Immortal Guardian's unabashed devotion to the arena metal aesthetic comes included with hair metal fans, auxiliary lighting, and a massive band banner. All of which can feel terribly out of place in a small club. Yet you can't put it all down to delusions of grandeur after hearing the Austin fivepiece shred.
Young Iron Maiden acolytes with instrumental dramatics to please the Dream Theater set, the locals boast exceptional technical chops across the board, but it's prodigious instrumentalist Gabriel Guardian, playing guitar with his left hand and keyboard with his right, who's surrounded by iPhone videographers every time he solos.
After their set at Red 7 on Saturday night, I spoke with Guardian and vocalist Carlos Zema about the past and future of Immortal Guardian.
Austin Chronicle: My first experience with y'all was witnessing the band on its trailer. Tell me about Immortal Guardian's shred sled?
Gabriel Guardian: The shred sled is an insane heavy metal show brought to the masses. I have a lot of friends who go to South by Southwest, but they don't have a badge or wristband and they're looking for something to do. This is our way of bringing the show to them. We have a full production on wheels with a light show and a sound system powered by a generator.
Last year it got the attention of Spin magazine, who called it one of the best things to see at the festival. That caught Transmission Events' ear and we got to play Fun Fun Fun Fest.
Carlos Zema: We loaded everything onto a small flatbed trailer and got pulled into the crowd at Fun Fun Fun. Three sets a day for three days. When we do it on the street, we take the risk of cops shutting us down – giving us tickets, confiscating our shit – but we didn't give a damn.
GG: Last year at South by Southwest, we did 11 shows in three days. We got shut down by the cops almost every time.
AC: You're finally based in Austin?
GG: Yeah, I'm from the Rio Grande valley and Carlos is from Brazil. We're from all over, but me and the drummer Cody [Gilliand] founded the band. Over the years, we've gotten a new bass player and new vocalist, and now the lineup is exactly what I want it to be. Within the last year, all of us have relocated to Austin. Our other guitarist moved here this month from San Antonio.
AC: You toured Brazil last year. What was that experience like? I understand heavy metal is the universal language of South America.
GG: What Lady Gaga is here, Iron Maiden is there. Metal is worshiped. Even if you don't like Iron Maiden, you know who they are.
CZ: They're more popular than the Pope. Some people don't know who the Pope is, but everyone knows Steve Harris.
GG: It was our very first time there and we were treated like rock stars. Our shows were huge and we almost sold out all our merch before we even played the first show.
AC: How did you develop the technique of playing piano and guitar simultaneously?
GG: It was just something I came up with when I was stoned – just a joke at first. I was hanging out with some buddies and trying to figure out something from guitar to piano. The next thing you know I was playing both and my friend was like, "Dude! That is fucking cool, man!"
I clearly remember thinking to myself: Imagine if you were to see someone playing guitar and keyboards at the same time. How fucking stupid would that be! But my friends were like, "I think it'd be cool. You should give it a shot." After my first viral YouTube video, I had to keep doing it.
CZ: Last year for the anniversary of Dimebag Darrell's death, he did "Cemetery Gates." The first week it had over 100,000 views. Pantera shared it online.
AC: You have an independently released EP, Super Metal, for sale now. Anything else coming down the pipe?
CZ: We just finished recording an album with Roy Z, who produced Judas Priest, Sebastian Bach, Rob Halford, Bruce Dickenson, and Helloween. We finished it in Hollywood and we'll probably release it within a month. We have a few offers from labels, but I don't think we're prepared to sign a blood contract with the devil yet, so we're trying to work out a way to distribute it.
AC: Title?
GG: Its called Revolution: Part 1. There's so much about revolution we want to write that we're breaking it up into parts.
CZ: We believe the whole world is realizing that we don't have rights. So many countries are having some kind of a revolution, including where I'm from and where some of other bandmembers' families are from. We felt like this was the time to say something about it. Some of the ideas people don't want to hear, but they need to be discussed.
GG: In a beautiful, melodic way so they'll want to talk about it.
A note to readers: Bold and uncensored, The Austin Chronicle has been Austin's independent news source for almost 40 years, expressing the community's political and environmental concerns and supporting its active cultural scene. Now more than ever, we need your support to continue supplying Austin with independent, free press. If real news is important to you, please consider making a donation of $5, $10 or whatever you can afford, to help keep our journalism on stands.
READ MORE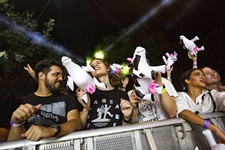 Federal program gave $130 million to over 100 local businesses
Rachel Rascoe, Oct. 22, 2021
Lucasfilm, Patreon, WWE all sending speakers for 2022
Richard Whittaker, Oct. 19, 2021
More by Kevin Curtin
On discoverable platforms, Austin musicians experience encouragement, engagement, and unexpected viral moments
Nov. 26, 2021
Aaron Stephens, Paul Cauthen, Drakulas, Glasshealer, Pretty Little Thieves, and more local sounds
Nov. 26, 2021
KEYWORDS FOR THIS POST
Immortal Gurdian, Gabriel Guardian, Carlos Zema, Cody Gilliand, Dimebag Darrell, Pantera, Roy Z, Skid Row, Sebastian Bach, Judas Priest, Rob Halford, Iron Maiden, Steve Harris, Bruce Dickenson, Helloween, Spin magazine, SXSW, Fun Fun Fun Fest, Transmission
MORE IN THE ARCHIVES