Clash City Rockers
Unexpurgated Clash box set review
By Tim Stegall, 3:03PM, Fri. Sep. 20, 2013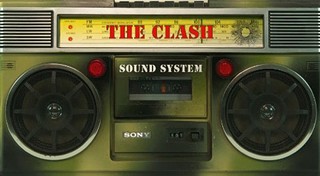 A half-dozen box set reviews in the Chronicle this week issue didn't exactly allow for a 1,000-plus-word critique of the new complete Clash boom box, Sound System. I penned one anyway. Here's the write-up that ran in the paper – with a few bon mots added. Consider it the director's cut.
They began as an English sub-Ramones in 1976, three motley art students and a scab drummer patched together by a cohort of the Sex Pistols' manager. He directed them to "write about what you know." By the time a proper drummer was drafted, Bernie Rhoades realized he'd unleashed a proper English beat poet in Joe Strummer.
The Clash would then warp history as possibly the last truly heroic band rock & roll's seen, building a mythology around themselves and torching the punk rock rule book that the genre was desperately writing for itself. Punk couldn't contain them – their imagination knew no boundaries. Sadly, a late bid for stardom destroyed them within 18 months.
Presenting the complete Clash, lovingly remastered on six discs that comprise the classic lineup's five studio LPs issued on CBS between 1977 and 1982, plus a three-disc extras set featuring all non-LP singles and B-sides, their earliest demo sessions, and a live set taped in 1979 for the Rude Boy quasi-documentary. There's also a DVD featuring archival footage from Julien Temple and Don Letts, unreleased live footage, and every promo clip. All of it comes repackaged with groovy extras in a faux boombox.
Surely you wanted replicas of the dog-tags dancing across their t-shirts, or the old tour badges and stickers, right? How about a poster of bassist (and package designer) Paul Simonon's 1980 engineer boot poised to kick over a row of those titular sound systems, encased in a tube made to look like a giant pop-art filter cigarette? He must've been a destructive sort, Simonon. That's him famously smashing a Fender Precision a la the Who's Pete Townshend on the cover of London Calling.
You also get a blank book to write your own liner notes, packaged to look like a Penguin Classic for the Clash and titled after the famed Joe Strummer aphorism, "The Future is Unwritten." Dig further, and you'll find a folder decorated with lovingly reproduced Strummer doodles, set-lists, scribblings. Inside, there's two issues of The Armagideon Times, the fanzine-cum-tour program the Clash produced, alongside a new edition featuring testimonials from those who were there, like aide de camp Kosmo Vinyl and legendary tour managers Johnny Green and The Baker.
And that's just the packaging!
Mick Jones – brilliant guitarist and songwriter, unsung for his adventurous arranging heard even on their earliest punk bashings – very carefully baked the band's original masters and gave 'em a fresh mastering job. That sonic upgrade sounds best on the earliest material: vicious punk 45s like "White Riot" and "Complete Control" on the three discs of non-LP singles, and the self-titled debut. Anthems of Seventies London's emergency state, "Career Opportunities" and "London's Burning" no longer sound recorded under a cardboard box. Their 3-D details now cut through.
Blue Öyster Cult producer Sandy Perlman gave the UK quartet a Sex Pistols-ish widescreen/Technicolor production for 1978's Give 'Em Enough Rope, sneered at by some punk purists as heavy metal. Untrue. They just sounded as big as their vision, which broadened from beyond the streets of London to world geopolitics.
Recall "Safe European Home," written of Strummer and Jones' disastrous Jamaican junket to write songs: "Went to the place where every white face/Is an invitation to robbery." Pin that to the massive orchestral drum framework provided by new drummer Topper Headon – those beautifully stumbling rack tom rolls across the crescendo to "Safe European Home." The Clash were now well 'ard, rastas.
London Calling, the Clash's apex, took in American roots – rockabilly, soul, Phil Spector – and a deeper absorption of the reggae the group worshiped from the start. Meantime, songwriting introduced odd topics like the Spanish Civil War ("Spanish Bombs") and actor Montgomery Clift ("The Right Profile"). And it was two records the Clash insisted their label sell for the price of one, for which they took a cut in royalties.
The set was housed in a sleeve modeled after the first Elvis Presley album. Suddenly, you had a rock & roll band that wasn't only heroic, but principled, and larger-then-life. You felt you were getting an education with every move the Clash made. Lessons in life and living – how to walk, talk, dress, comb your hair – plus history, and politics. The Clash were better than Schoolhouse Rock.
Punk was all but gone come the schizophrenic, three-disc Sandinista, which added nascent hip-hop ("The Magnificent Seven") and even deeper reggae ("One More Dub") to a confused mix. The Clash proudly stand behind it to this day, insisting that its flaws – its lack of focus and Clash city rockers, not to mention its kitchen-sink/warts-and-all ethos – is actually its strength. Really, though, introducing the rock masses to rap and world beat is a mighty accomplishment, but not enough.
Pare Sandinista down to one disc, add more classically Clash punk rock hits like "Somebody Got Murdered" or their brilliant cover of the Equals' "Police On My Back" – another prime example of how the Clash could take a song like Sonny Curtis' "I Fought The Law" or Toots & the Maytals' "Pressure Drop," attach a rocket engine to its back, and completely own the song – and you would've had a better focused, less messy record that would have been much stronger.
Seems that smoking a lot of ganja in the studio and thinking you can fulfill your record contract instantly with another multi-album set can really cloud judgment.
With 1982 single LP Combat Rock, Strummer and Jones were writing hits ("Rock the Casbah," "Should I Stay or Should I Go"), as well as one of their greatest and most poignant tunes in "Straight to Hell." Yet brilliant drummer Topper Headon was on smack, and Jones was behaving like a prima donna rock star. The Clash were all over MTV, raking in rock star millions, opening for the Who at Shea Stadium, and co-headlining the US Festival with Van Halen.
By then, sadly, the heart was gone
Topper Headon was fired before touring for the album began, replaced by original Clash drummer Terry Chimes. Then Mick Jones, who now admits he was behaving like (as Strummer put it) "Elizabeth Taylor in a filthy mood," was booted by Strummer, who was having Bernie Rhoades whispering in his ear in a classic divide-and-conquer tactic businessmen always use on cash-cow rock & roll groups. It never works.
Strummer and Simonon assembled a new Clash lineup meant to strip the band back to "White Riot" and "Complete Control," but in the studio Rhoades took over for 1985's Cut the Crap (not included with this set), using samplers and drum machines with Strummer rather than the actual band. It resembled a confused techno version of a Cockney Rejects album, with only the poignant "This Is England" transcending the rot that had audibly set in. Never was an album more aptly named than Cut the Crap.
The Clash fizzled out that same year, after a tour of the UK spent playing acoustic guitars impromptu in public places, like street performers playing for spare change and sleeping rough outdoors rather than one of rock & roll's most important acts. It took years before their reputation as seminal English punk rock heroes was restored.
Mick Jones swears this is the last time the Clash's catalog gets repackaged. He feels this is enough, that there's no more to be said. Towards that end, the five classic Clash LPs will be available in a stripped-down, no frills box set retailing at far less than Sound System, and vinyl versions of the remasters will be available individually in October. There's also another greatest hits package, The Clash Hits Back, based on an actual Joe Strummer set-list.
Even then, if you're an old Clash fan who has everything already, Sound System is worth the extra expense. The music's never sounded better, and the extras do, in fact, enrich the whole all the way down to the miniature cardboard reproductions of the Clash's old pink road cases.
Clash On Broadway, the 1991 3-CD box set, has been supplanted. Sound System is now firmly the last word on the Clash and its legacy.
A note to readers: Bold and uncensored, The Austin Chronicle has been Austin's independent news source for over 40 years, expressing the community's political and environmental concerns and supporting its active cultural scene. Now more than ever, we need your support to continue supplying Austin with independent, free press. If real news is important to you, please consider making a donation of $5, $10 or whatever you can afford, to help keep our journalism on stands.
READ MORE
More Clash
Sound System (Record Review)
Tim Stegall, Sept. 20, 2013
More by Tim Stegall
The album that made Austin's apex punks earns anniversary vinyl remaster
Aug. 11, 2023
The Texas percussionist and "Madonna Pap smear girl" has died at 60
June 20, 2023
KEYWORDS FOR THIS POST
Clash, Joe Strummer, Mick Jones, Paul Simonon, Topper Headon, Bernie Rhoades, Sex Pistols, Ramones, Elvis Presley, Julien Temple, Don Letts, Sonny Curtis, Toots & the Maytals, Kosmo Vinyl, Pete Townshend, Who, Blue Öyster Cult, Sandy Pearlman
MORE IN THE ARCHIVES