Five Questions for Jim James
My Morning Jacket captain talks 'Light,' 'Sound' & 'God'
By Doug Freeman, 11:37AM, Fri. May 3, 2013
After an epic SXSW, Jim James returns Monday to Stubb's. The My Morning Jacket frontman, taping Austin City Limits on Sunday, touts his first solo LP, Regions of Light and Sound of God.
Austin Chronicle: You had a monstrous string of shows during South by Southwest. How did playing the album live over the course of that week evolve the performance for you?
Jim James: It was great, because this is a new thing for me and for the band that's playing with me, so every single show that we got to play really helped us understand things more. By the time we played South by Southwest, we'd only played five or six shows. I feel we're still in our infancy of figuring things out, but it's been super fun.
It always happens with any album you make, really, no matter what band or what project it is. Most of the times you make an album before you tour for that album a lot, so it's a natural growth and projection from where you start and where you end up. You just never know what life is going to add to the songs. That's why I think bootlegs and live records are really cool for fans of bands.
AC: How long have you had this solo album in the works and why do you feel that these songs were particularly Jim James songs as opposed to My Morning Jacket?
JJ: They're really just songs that I wanted to work on by myself, because they started as more of score material for this book that I fell in love with called God's Man. I started scoring it to kind of hope to make it into a film, and that's more of a solitary writing thing. That's really how most My Morning Jacket songs start off too, in a solitary way that then gets brought to the band and everybody does their thing to it. I look at these new songs and hope to play some of them with My Morning Jacket over the years.
AC: You mentioned God's Man being an influence, and there's a lot of religion and spirituality to this album, even if it's not direct or specific. What's your relationship to religion and how do you feel it relates to your music.
JJ: I feel that religion and spirituality in general are one of the most important things that a person can try to figure out for themselves. I really believe that spirituality and religion is just an individual thing, and that every person should feel free to follow their own beliefs and follow their own heart.
My personal spirituality is a mishmash of everything I've learned over the course of my life. I was raised Catholic, but I call myself a recovering Catholic because I don't believe a lot of what they believe. There are a lot of good principles there obviously. I try to read as much as I can and learn as much as I can and meditate and try to feel connected to the whole thing. I really do believe that we're all connected and have a special place in life that we need to figure out and can figure out.
AC: The album seems to be trying to strip away a lot of modern life to get at something more essential. This may be an impossible question to answer, but for you, what's that essentialness?
JJ: I think the simplest answer, and we're talking about God and everything here, but I really believe that God is love and God is more than we will ever be able to understand. I believe there's a core to life that you should have and should maintain, and I think that's family and friends and love. You should strive to have love in your life in every way that you can.
I think technology is super dangerous in that it can isolate us. It can give us this illusion of love or this illusion of community, but really you're just staring at the screen. It's a great illusion, and it's very convincing and it's got a lot of us fooled.
I'm into it as much as everyone else. I've got a smartphone and I check my email, but for me it's a matter of trying to look at technology as a tool and not a way of life. I think it's healthy to look at your smartphone like a hammer or screwdriver, as a tool in your toolbox that you use and then put down and live your life. I think then you can stay more connected to what's real – real friendships and real love and real community.
AC: You said during your South by Southwest Interview that the two words 'music' and 'business' don't go well together. So many artists now are told they need to have that business sense, so how do you reconcile that for independent artists?
JJ: Yeah, for me it's tough, because you do have to know a little bit about business. If you want to try to make a living playing music, obviously that involves trying to make some money and paying your bills.
But we're a flawed society. I think capitalism has really fucked us in that we care more about money than we do each other. I think if we really cared about each other, we'd have a lot of problems solved and it would be a lot easier to be a musician or artist because you could be taken care of if that was the right life role for you. Instead, we're taught to chase the almighty dollar and do whatever we can to get that dollar even if it means fucking over people.
Our whole health care industry and insurance industry – all of these industries that just prey on people and have no regard for human life or human safety – I feel like the whole system needs to be turned inside out, and we need to make sure everyone gets enough instead of just a few people getting everything. It's just a flawed system.
And I think we should be seeing a lot of this stuff as really joyful. In a lot of ways it's beautiful that people can get music for free on the Internet, because I think music should be free. Yet at the same time musicians deserve to be paid for their work because they work hard and deserve to be compensated just like anybody else doing any other job. If the system were fair, we'd have it worked out to where everybody would be compensated, whether from revenue through concerts or whatever.
And there are some things that do work well, but I think that for a band just starting up it's hard because nobody spends money on music anymore, so they really have to build the live thing. That's one of the few ways that you can support yourself, and this industry is tough to just get your foot in the door.
I tell people that are starting out that if you feel you have something that you have to share, you have to really believe in it and lay everything down to go for it. You can't hold anything back. You have to go for it all the way and believe in it and be willing to die for it. Because if you don't, nobody else is going to believe in it.
A note to readers: Bold and uncensored, The Austin Chronicle has been Austin's independent news source for almost 40 years, expressing the community's political and environmental concerns and supporting its active cultural scene. Now more than ever, we need your support to continue supplying Austin with independent, free press. If real news is important to you, please consider making a donation of $5, $10 or whatever you can afford, to help keep our journalism on stands.
READ MORE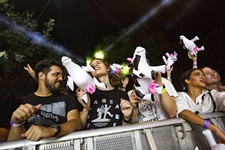 Federal program gave $130 million to over 100 local businesses
Rachel Rascoe, Oct. 22, 2021
Lucasfilm, Patreon, WWE all sending speakers for 2022
Richard Whittaker, Oct. 19, 2021
More by Doug Freeman
Somber songwriter debuts live cut from Arlyn with sophomore LP release
Oct. 22, 2021
A new album emerging, the songwriter-painter reflects on his journey
Oct. 21, 2021
KEYWORDS FOR THIS POST
Jim James, My Morning Jacket, Austin City Limits, SXSW, God's Man
MORE IN THE ARCHIVES