South by So Real 2010
Checking in with SXSW's hip-hop head
By Thomas Fawcett, 12:10PM, Mon. Mar. 15, 2010
Welcome to the third edition of South by So Real, where Bump & Hustle raps with Matt Sonzala, whose AustinSurreal now comes in blog and Internet radio form.
Sonzala handles the hip-hop booking for SXSW and faces the unenviable task of getting hundreds of rappers to take the stage in a timely fashion, across the city, for four straight days.
Needless to say, it's really going down.
Bump & Hustle: Let's start with a breakdown of the numbers. How many hip-hop acts are performing and how many countries are they coming from?
Matt Sonzala: This year we have over 240 hip-hop acts and we've got groups from all over. Of course, the South, the East, the Midwest, the West coast. We've got Canada represented; Anita Tijoux is coming from Chile and I hear she's actually gonna make it despite the tragedy, so we're very excited about that. The UK has a whole urban night that's gonna be really dope. The Paranoids, formerly known as the Urban Summit along with MC the Narcissist from Montreal, they're Palestinians who moved to Lebanaon and now live in the States, I believe. Mohammed Al Farra from Gaza lives in Dallas now and will be performing on that bill (Thursday, Club 115) as well. QDIII, Quincy Jones' son, is gonna host two nights of international hip-hop showcases (Thursday and Friday, Club 115). He is coming with Adam Tensta, who is a real strong voice coming out of Sweden, so we have the new kid from Sweden and the legends from Sweden. Looptroop Rockers, who I'm extremely excited to see. Timbuktu, who is a major star over in Scandinavia is coming as well, along with Chords. LidoLido from Norway is coming.
B&H: And a big contingent from New Zealand as well.
MS: Young Sid, Mr. Sicc, and David Dallas from New Zealand, and David Dallas made a big impact when he was here last year.
B&H: You've been doing this full-time for three years now. Does it get any easier?
MS: It gets easier to the extent that people really want to come now, it's not such a hard sell. Everybody wants to be at SXSW and it's great that people are calling me and expressing interest as opposed to me having to call everybody and explain SXSW from A to Z every time. Now everybody wants to come. It's harder now because there are so many more acts but really it's just a lot of fun.
B&H: There's no set in the entire festival that I'm more excited about than Nas and Damian Marley. That was a pretty late addition, how did that come about?
MS: Like anything else, they've got a project coming (Distant Relatives) and they felt they needed to be at SXSW. It's a great place to set off your musical year. If you have a plan for a tour, a plan for an album, whatever you're doing you can come and really get that word out to everyone.
B&H: Another event that looks really cool is the Bun B interview that will be part of Peter Rosenberg's Noisemakers series. It's almost like fusing what happens during the day at the Convention Center with a more traditional music showcase. What will that be like?
MS: I've seen Noisemakers in New York and what's cool about it is that it feels like a late night talk show but with a host that's really knowledgeable and where they go really in-depth with only one guest. It's not just your typical interview; it's a really intimate and intelligent discussion about their history and music. Peter does great interviews. When they approached me about it I thought we could do something at the Convention Center but they wanted more of a cocktail, happy hour, hanging-out-at-the-club type vibe. This will start at 7pm (Thursday) and will be a two-hour interview with some musical breaks. DJ Rapid Ric will be spinning UGK classics and maybe a couple Bun songs. It's difficult to get hip-hop fans to the club before 8pm but I think people will realize this will be really special and it will get them out to the club early.
B&H: Speaking of Bun, Texas is well represented with the Best in Texas showcase and a ton of local talent as well.
MS: This year we have 27 hip-hop groups from Austin. I'm really excited about the Best in Texas show (Wednesday, La Zona Rosa) as a whole. Most scenes get their time in the light but one thing about Texas rap is that there was the big surge where everybody was stoked about Houston for a minute, but the fact of the matter is that Texas rap artists as a whole maintain. They really have a career down here, everyone you saw blow up is still working and there are plenty of guys not known outside of Texas who have careers. Chalie Boy is a great example. He's starting to blow up, which I'm happy to see but that dude has been doing it for years. Also, Chamillionaire and Paul Wall getting back together is something a lot of Texas hip-hop fans have wanted to see for a long time.
B&H: There are a lot of good thematic showcases this year. Rap is definitely a male-dominated game but there is a bright light shining on the ladies with the all- female showcase Friday at Victory Grill. Why did you decide to do that?
MS: I've always wondered why it's such a struggle for women in hip-hop. There are some incredible MCs. Our headliner for that night, Bahamadia, is up there among the top MCs in hip-hop for anybody that really loves and listens to it. Invincible from Detroit pretty much put that show together with us. We were talking about ideas for SXSW and she said we need to do something like this and really helped get a lot of great artists. I'm excited to see Eternia, Miz Korona, and Mae Day. It's gonna be incredible.
B&H: Invincible will be at Victory Grill a couple of nights – she's also on the Detroit-themed showcase Thursday.
MS: I think personally, just as a hip-hop head, Detroit has the best sound in hip-hop right now. I love the energy from the artists in Detroit right now. These artists have overcome extreme odds and so many of them tour and people love their records. I love Detroit and I thought this would be a great year if they wanted to come.
B&H: But J Dilla's brother Illa J is not on the Detroit showcase, right?
MS: Illa J might come out and host a bit but we're showing the movie Timeless at the Carver Center on Saturday afternoon. Timeless is the movie about Suite for Ma Dukes, the orchestra from California that remade J Dilla's music. There will be an afterparty at Malverde with DJ Chicken George, B+, Eric Coleman, and the Mochilla guys, Quantic from Colombia, DJ Sun from Houston, and Illa J will be on that bill.
B&H: There are a lot of big old school names that the world hasn't heard from in a few years. Some of them, like Black Sheep, have been touring on the hip-hop nostalgia circuit but others, like B Real and Xzibit, I was surprised to see on the schedule. Do they have new projects to push?
MS: Xzibit is coming with a company out of L.A., Cashmere Agency and Stampede Agency. Stampede handles Snoop, Xzibit, Murs, Kurupt, DJ Quik, and more. I was out in L.A. last year and went and talked to them. I told them they need to come out here. DJ Quik could come to SXSW, really do a great show, and start touring Europe and Australia. He's a legend and a musical genius. I think they need to claim some more of the pie outside of the West coast. B Real has his new project through Duck Down and they're doing their 15th anniversary party with Buckshot, Evil D, Sean Price and Smif-N-Wessun (Friday, Scoot Inn). I want to bring the legends here that can seriously go tour Europe and places where they still get tons of respect. That's something they can really accomplish at SXSW.
B&H: The Stones Throw showcase Wednesday at Speakeasy Kabaret is intriguing but I'm not sure exactly what to expect. Is that gonna be all DJ sets?
MS: It's all DJ sets and it's gonna be all vinyl 45s.
B&H: Egon is one of the premier rare funk collectors in the world, so that should be amazing. I think DJ sets are hard to draw people to when there's so much live music but that should be really cool.
MS: I think it will just be a party at the Speakeasy Kabaret. The two shows at Speakeasy and Speakeasy Kabaret are working together and we're gonna let people go back and forth between the two. Stones Throw will be in back and Senari presents the show with Deadly Dragon Sound and Cubic Zirconia in the front. Adam Tensta will be on that one and Jahdan Blakkamoore. It's a really cool and diverse lineup so I think people can come to the Speakeasy all night and go back and forth and enjoy the thing as a whole.
B&H: Freddie Gibbs is one of the most compelling rappers I've heard in recent years. I know there was the whole drama of him getting signed to a major label and then being shelved. What's your take on him?
MS: I've known Freddie Gibbs since around 2000. I used to go to Gary, Indiana a lot for Murder Dog magazine and I never really got to cover him because he came out just after that. We used to chat online about the business; he was really hustling and trying to get in it. I think he's a great MC and I love Gary, Indiana. If you want to hear some hard-ass rap that's a good place for it to come from. That is some of my favorite rap music, that Midwest gangsta shit. I think this will be a good year for him and a lot of the up-and-comers.
B&H: Who are some other up-and-comers you think could break out this year?
MS: A lot of people are talking about Fashawn and Donnis, XV out of Wichita, Promise out of Toronto, and Kydd from here in Austin. Jay Rock, the rapper from L.A., not the DJ, plus all the groups that were here last year like Pac Div and U-N-I. Basically, every night at the Independent the hip-hop lineup is insane, all up-and-coming and underground acts like Sollilaquists of Sound, People Under the Stairs. I'm excited to see the Thursday night lineup with Sage Francis and DJ Spooky with Graham Reynolds.
B&H: Let's talk about the New Orleans bounce showcase because that is gonna be crazy. The lineup is full of veterans of the bounce scene, which is huge in New Orleans but hasn't made much noise outside of that city.
MS: I came up a lot in Houston so I've heard bounce music a lot. I love that stuff. DJ Jubilee is a total legend when it comes to party-rocking music. Katey Red and Big Freedia will be crazy. It's true, it's like go-go in D.C.: you don't see it a lot outside of that city. That's what goes on in New Orleans.
B&H: And you probably won't see transvestite rappers at any other showcases.
MS: I don't know, maybe they'll bust in on other showcases like Bushwick Bill did a couple years ago on every show.
B&H: I want to hear your non-hip-hop wild card act for this year. Last year you tipped me off to Futomomo Satisfaction from Japan and that was among my very favorite shows of the festival.
MS: This year I really hope to see Oy, who lives in Berlin but is originally from Ghana. It's kind of hip-hoppy but really spaced-out electronic stuff. She's playing Saturday night at Prague and I pray I get to see her.
The 2021-2022 Austin Music Awards Music Poll is underway. Vote now for your favorite bands, venues, and music until January 31.
A note to readers: Bold and uncensored, The Austin Chronicle has been Austin's independent news source for almost 40 years, expressing the community's political and environmental concerns and supporting its active cultural scene. Now more than ever, we need your support to continue supplying Austin with independent, free press. If real news is important to you, please consider making a donation of $5, $10 or whatever you can afford, to help keep our journalism on stands.
READ MORE
From retro horror to COVID survival, the best of the fests
Richard Whittaker, Jan. 7, 2022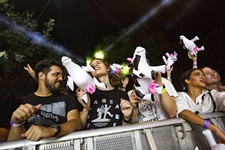 Federal program gave $130 million to over 100 local businesses
Rachel Rascoe, Oct. 22, 2021
More by Thomas Fawcett
A child of funk who lost his brother to police brutality soundtracks a revolution on BLK VINTAGE
Aug. 13, 2021
Dallas Acid blows some bubbles, KUTX remembers the Armadillo, and more music for the moment
Aug. 14, 2020
KEYWORDS FOR THIS POST
MORE IN THE ARCHIVES