Little Foxes
RTX xterminates Emo's.
It was perfect, really. There among the sound of motorcycle engines gunning and the smell of diesel and T-shirts with sayings like "If you can read this, the bastard won't let me drive," Jennifer Herrema, often imitated, never duplicated, and RTX stumbled onstage Friday night at Emo's. With white fox tails draped around her neck, a sweatshirt over her ratty blond hair, and a lit cigarette constantly in hand, she looked like the pied piper of gutter metal. That's perfect, too, because RTX's latest, Western Xterminator, is straight road hog from the Sunset Strip circa 1989, and they did not disappoint.

Herrema sat on the drum kit, fell to her knees, and two-stepped around in her snake-skin boots. Her voice is a little clearer than in her Royal Trux days, and the band fogged up the place via big-hair riffs. Sadly, their cover of Fang's (Fang! Does anyone remember Fang?) "The Money Will Roll Right In" wasn't on the set list, but the crowning moment came toward the end of the night, when Herrema finally dropped the bag she'd had strapped across her chest, pulled out a lovely and elusive powder-blue fox tail, and dropped it on the ground. Just like that. Poof.
A note to readers: Bold and uncensored, The Austin Chronicle has been Austin's independent news source for over 40 years, expressing the community's political and environmental concerns and supporting its active cultural scene. Now more than ever, we need your support to continue supplying Austin with independent, free press. If real news is important to you, please consider making a donation of $5, $10 or whatever you can afford, to help keep our journalism on stands.
READ MORE
More RTX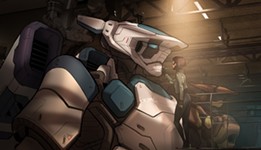 New Rooster Teeth show, Castlevania, and more
Richard Whittaker, July 17, 2017
Planet of the Apes star to deliver keynote
Richard Whittaker, June 21, 2017
More by Audra Schroeder
Statistician Nate Silver on more data, more problems
March 15, 2013
Daily Reviews and Interviews
March 15, 2013
KEYWORDS FOR THIS POST
MORE IN THE ARCHIVES