The Magic 8-Ball Says, 'Get a New Bass Player'
Memories of SXSW 2007.
By Audra Schroeder, 11:45AM, Wed. Mar. 21, 2007
Going into South by Southwest every day is a lot like being a human pinball, shot into this vast maze of people texting and cars and lines, each second trying to avoid popping up right back behind that spring-loaded plunger. We all want to end up getting the jackpot, to see the band that's going to somehow change our lives. That said, perhaps the most interesting sight was the "palm reader" on Sixth Street, huddled between two buildings with a cardboard box as a table, with a line of musicians waiting. Jackpot.

Something old: Most improved goes to Jandek, whose set at the completely appropriate Central Presbyterian Church was decidedly louder and heavier than 2005, thanks in part to a more aggressive rhythm section – drummer Ian Wadley and bassist Tom Carter fell into some amazing grooves – plus local noisemaker Shawn David McMillen cranking on a harmonium. Amazingly, people were still texting during the show.

Something new: There were solid performances from 120 Days, Mika Miko, the Ponys, the Black Lips (who played the most shows of any band here; seriously, I saw them setting up behind a Whataburger Saturday night), Menomena, Under Byen, White Savage, No Age, Times New Viking, Wooden Shjips (not a typo), Noxagt, and locals White Denim, whom simply everyone seemed to be talking about. "We filled in for a metal band on a Saturday night showcase," recalls drummer Josh Block. "And Sara from Krazayzay started a mosh pit that ended up with two guys we've never seen before getting into a bar fight during our poppiest tune. What a sight. We've played four shows in a week before, but not in a day."

Something borrowed: Reigning Sound's cover of Sam and Dave's "You Got Me Hummin'"; Ohio's Psychedelic Horseshit (sort of) covering Suicide's "Ghost Rider"; New York weirdo guitar and piano duo Blues Control covering … was that "My Sharona"?


A note to readers: Bold and uncensored, The Austin Chronicle has been Austin's independent news source for almost 40 years, expressing the community's political and environmental concerns and supporting its active cultural scene. Now more than ever, we need your support to continue supplying Austin with independent, free press. If real news is important to you, please consider making a donation of $5, $10 or whatever you can afford, to help keep our journalism on stands.
READ MORE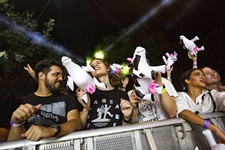 Federal program gave $130 million to over 100 local businesses
Rachel Rascoe, Oct. 22, 2021
Lucasfilm, Patreon, WWE all sending speakers for 2022
Richard Whittaker, Oct. 19, 2021
More by Audra Schroeder
Statistician Nate Silver on more data, more problems
March 15, 2013
Daily Reviews and Interviews
March 15, 2013
KEYWORDS FOR THIS POST
Cute Band Alert, SXSW, White Denim, Jandek, Black Lips, Mika Miko, 120 Days, the Ponys, No Age, Noxagt, White Savage
MORE IN THE ARCHIVES