About Last Night
Saturday SXSW wrap-up.
By Audra Schroeder, 2:59PM, Sun. Mar. 18, 2007
The round of apologetic phone calls was kept to a minimum, but that doesn't mean the night wasn't a success. Saturday gave me two of the best discoveries this week. Mika Miko are five young ladies from L.A. who encapsulate everything good about rock & roll. One red telephone used as a microphone was passed around like it was a slumber party, as guitar and saxophone birthed trashy, synthy little nightmares. They were on the cover of Maximum RockNRoll recently, and I would not fuck with any of them.

Then there was Dandi Wind, a Montreal singer who is sort of a younger and slightly more unhinged Peaches. On Beauty Bar's stage, she looked like a psychedelic Olivia Newton John, bouncing all over in what looks like an ostrich coat. The energy she and her band radiated, along with the unicorn piñatas and fake eggs filled with confetti that were thrown into the crowd, added a fragrant air of manic art-school dropout to the whole Festival. She also seems like she might cut you.
A note to readers: Bold and uncensored, The Austin Chronicle has been Austin's independent news source for almost 40 years, expressing the community's political and environmental concerns and supporting its active cultural scene. Now more than ever, we need your support to continue supplying Austin with independent, free press. If real news is important to you, please consider making a donation of $5, $10 or whatever you can afford, to help keep our journalism on stands.
READ MORE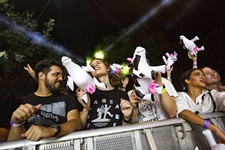 Federal program gave $130 million to over 100 local businesses
Rachel Rascoe, Oct. 22, 2021
Lucasfilm, Patreon, WWE all sending speakers for 2022
Richard Whittaker, Oct. 19, 2021
More by Audra Schroeder
Statistician Nate Silver on more data, more problems
March 15, 2013
Daily Reviews and Interviews
March 15, 2013
KEYWORDS FOR THIS POST
MORE IN THE ARCHIVES