No Man Purses
SXSW's first day review
By Audra Schroeder, 10:05AM, Thu. Mar. 15, 2007
The first day of South by Southwest offered up a lot of folks in corpse paint and people with dressed-up dogs. However, nothing really sums it up like the photo here.

Elsewhere, Greg Ashley of Gris Gris debuted his Medicine Fuck Dream Road Show at Club de Ville with Brian Glaze and friends on various instruments. And it smoked. Ashley's new solo album, Painted Garden, trumps his last, and he's playing a bazillion places this week, so go see him fer the lovva God.

Anyone else notice guys in bands are now dressing like something out of Oliver Twist?
A note to readers: Bold and uncensored, The Austin Chronicle has been Austin's independent news source for almost 40 years, expressing the community's political and environmental concerns and supporting its active cultural scene. Now more than ever, we need your support to continue supplying Austin with independent, free press. If real news is important to you, please consider making a donation of $5, $10 or whatever you can afford, to help keep our journalism on stands.
READ MORE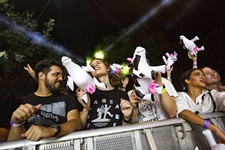 Federal program gave $130 million to over 100 local businesses
Rachel Rascoe, Oct. 22, 2021
Lucasfilm, Patreon, WWE all sending speakers for 2022
Richard Whittaker, Oct. 19, 2021
More by Audra Schroeder
Statistician Nate Silver on more data, more problems
March 15, 2013
Daily Reviews and Interviews
March 15, 2013
KEYWORDS FOR THIS POST
SXSW, Greg Ashley, Painted Garden
MORE IN THE ARCHIVES