Mo' Music SXSoGay Afterglow: Saturday
'God Help the Girl,' Phantogram, and Snoop Dog
By Ryan Obermeyer, 5:25PM, Sun. Mar. 16, 2014
This is Ryan Obermeyer, assisting with writing duties as strict security measures separated my trusty writer Rob Cohen and myself.
We both arrived at the Paramount Theater to view the directorial debut of singer Stuart Murdoch (of Belle and Sebastian fame). I executed a quick photo shoot with Stuart beforehand.
The film, a musical coming-of-age tale, functions as a modern full-length film version of a hipster's "My Favorite Things," including Morrissey shirts, Ziggy Stardust makeup vignettes, pouty-lipped earnest teen singing, and actual "hipster" extras listed during the final credits. Despite being an exercise in all things twee, it's extremely enjoyable and somehow never feels forced. The music is some of the best Murdoch has written. Appropriately, it was introduced by an overture of the talented and adorable Barton Hills Choir performing several of the film's songs. Afterwards, Rob and I made our way to the Starr building where we became separated by forces of security and/or class distinction.
Two live performances recorded for the Live Nation series served as a crescendo to this year's annual SXSW melee. Perched atop the Starr building on Fifth Street with the illustrious Frost Tower as a backdrop, this unique rooftop stage was particular to the event, but hardly makeshift.
The first of two acts, electro-synth duo Phantogram- which consists of Sarah Barthel (vocals/synth) and Josh Carter (vocals/guitar)- kicked off the evening. Utilizing live recording techniques made popular by like-minded tech-savvy artists, Sarah cooed her acapella vocals into an ethereal loop that the rest of the band pounced on like precise juggernauts. The pair, alternated lead vocals and guitar privileges throughout their set. The live drums added much-appreciated heft and spontaneity that some of their precise recorded tracks lack. One track was assaulted by a string of technical difficulties which the two chief members deftly and graciously traversed. The performance, which will remain immortalized in the annuls of recorded entertainment, will prove that these players are worth their weight in buzz, and then some.
True to form, Snoop Dogg/Lion (Liger?) emerged fashionably tardy through an appropriately thick haze of billowing smoke and light. Not my particular cup of tea, his skill at effortlessly racing through trademark recitations of mind-boggling speed, rhythm, and expletives is undeniable. Aided, by a visual monitor- presumably supplementing lyrics- was never glanced at, and could hardly be begrudged. Bedecked in a diamond-encrusted personal microphone embellishment and equally ornate medallion, he appeared like a rap wizard waving a consistent spell over the audience, all of whom never missed a dropped beat.
Now off to the consummate climax of SXSW festivities, GayBiGayGay!
Ryan and Rob
Keep up with all our SXSW coverage at austinchronicle.com/sxsw.
READ MORE
More SXSW
Plus Teen Vogue, The Daily Show, and Charlie Rose
Richard Whittaker, Aug. 30, 2017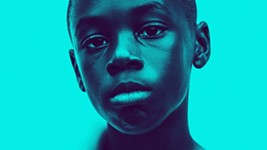 Oscar-winner Barry Jenkins part of first speaker list for 2018
Richard Whittaker, July 24, 2017
More South by Southwest
David Chang announced as featured speaker
Brandon Watson, Sept. 30, 2014
'Honeymoon' and 'Thank You a Lot' picked up
Monica Riese, March 28, 2014
KEYWORDS FOR THIS POST
SXSW, South by Southwest, Music, Stuart Murdoch, God Help The Girl, Phantogram, Snoop Dog
MORE IN THE ARCHIVES