Y'all or Nothing
A queer as #%&! showcase
By Rob Cohen, 7:03PM, Fri. Mar. 15, 2013
I had a quickie chat with Jeremy of Mouthfeel and his awesome upcoming event at Cheer Up Charlies.
Austin Chronicle: Is it difficult setting up an event amidst all the SXSW craziness? When do you start planning?
Jeremy VonStilb: We started planning this about three months ago. Trisha of Alien She and Ezra of Girlfriend and I talked about a bunch of artists we're into. It started of with Light Asylum, and we started building from there. We really wanted to showcase artists that are queer and queer adjacent. Saturday night at Cheer Up's happened to be available, and that is basically prime time so we went for it. I think this party is a good combination of what our three groups have been doing for years in Austin and combining our ideas of what makes a good party.
AC: Are any local acts playing?
JV: We tried to have a good balance of local and national acts. Mom Jeans featuring the lovely Ursula is playing. We have Total Unicorn which are an awesome multimedia project. We have the local Poo Poo Platter drag show performing. White Walls are a fairly new new-wave act we're excited to see. We have acts playing from Brazil, Austria, and all over the United States.
AC: Any surprises lined up that you can divulge?
JV: There are two acts that are pretty big names that are surprises. If you stare at the poster closely enough you can maybe figure it out (Laughs.) We wanted to be slick.
AC: What else should anyone know about your event?
JV: There are three stages. Come early. The bar may reach capacity. Cheer Up's has always been free during SXSW, so all you need is to be ready to party. Come find out about new bands and make new lovers. (Laughs.)
Y'all or Nothing begins Saturday, 6:30pm at Cheer Up Charlie's. No credentials or cover required.
Y'ALL OR NOTHING Promo from General Delight on Vimeo.
Keep up with all our SXSW coverage at austinchronicle.com/sxsw.
READ MORE
More SXSW
Plus Teen Vogue, The Daily Show, and Charlie Rose
Richard Whittaker, Aug. 30, 2017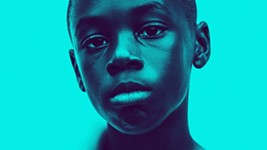 Oscar-winner Barry Jenkins part of first speaker list for 2018
Richard Whittaker, July 24, 2017
More by Rob Cohen
A,E,I,O,U, and sometimes Y am I doing this?
May 6, 2015
Vulnicura (Record Review)
May 1, 2015
KEYWORDS FOR THIS POST
SXSW, Mouthfeel, Xavier, Jeremy Von Stilb, Y'all or nothin, Queer as shit, Cheer Up charlie's
MORE IN THE ARCHIVES