Austin's Food-Forward Fork Cancer! Soirée
The American Cancer Society's new fundraiser elevates Fair Market
Here's the debut of what will be an annual fundraising event from the American Cancer Society. Here's the inaugural night of Fork Cancer!, a food hall-themed social soirée that brings together some of the best of Austin's food and beverage scene.
Note: When we say "some of the best," we mean, seriously, some of the best.
There'll be a mouthwatering array of bites from local favorites Loro, Uchi, Uchiko, Via 313, Lin Asian Bar, Spread & Co., Osome, and other acclaimed eateries. There'll be drinks by Tito's Vodka, Desert Door, Two Robbers Seltzer, 4th Tap Brewing, Austin Eastciders, Rambler Sparkling Water, and that new bourbon brand, Landry Distillery.
You know, we're smiling just thinking about how this sparkling night at the vast Fair Market event center will unfold with live music from Ricky Duran, Jesse James Armijo, and DJ Mark Klentzman. About how we'll plan future escapades as we contemplate the shindig's silent auction of luxury items and experiences – from Tecovas Bootmakers, Elite Island Resorts, the Commodore Perry Estate, and more – while nodding to our well-dressed friends and neighbors among the venue's glittering lights.
Note: Tickets are still available right here.
And what's the goal of all this posh partying? The goal, citizen, is to raise $120,000 for the American Cancer Society, specifically for transportation grants to local health systems, ensuring local patients get to and from treatment safely.
Where you'll want to get to this Thursday night (Nov. 11, 7-10pm) is: 1100 E. Fifth, where that Downtown block'll be rocking for a cause we can all get behind, even as we sip some of Tito's finest and stroll along a music-fueled foodie hall of fame. Because, tell you what, this is one helluva helpful way to have a good time.
Because, yes, Fork Cancer!
A note to readers: Bold and uncensored, The Austin Chronicle has been Austin's independent news source for over 40 years, expressing the community's political and environmental concerns and supporting its active cultural scene. Now more than ever, we need your support to continue supplying Austin with independent, free press. If real news is important to you, please consider making a donation of $5, $10 or whatever you can afford, to help keep our journalism on stands.
READ MORE
More by Wayne Alan Brenner
Who says we can't be the other-than-live-music capital of the world, too?
Oct. 7, 2022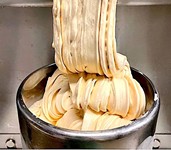 All the news that's fit to get your taste buds quivering
Oct. 5, 2022
MORE IN THE ARCHIVES