Veracruz All Natural's in L.A., Jack Allen's in Our Hearts, Otoko's Got Kaieki-Ryori, Austin Food + Wine Festival Releases Tickets, and More …
All the news that's fit to get your taste buds quivering
Here's some of what's happening in Austin's vast and multivalent culinary scene, as wrangled from numerous PR releases, official posts, words on the digital street, and even the occasional (verified) IRL eavesdroppings.
Yes, it's your Food News Buffet for the first week in September.
Veracruz All Natural, the beloved Austin company of taco-forward deliciousness run (out of trucks and in hotels) by sisters Maritza and Reyna Vazquez, are opening their first beyond-ATX culinary outlet – called Hot Tacos – in Los Angeles, of all places. Seems the New York Times is almost as excited about this as we and the sisters and the citizens of L.A.'s Koreatown are. And, as Eater Austin tells us, Veracruz All Natural will be going bricks-and-mortar in Mueller next spring, opening a dedicated eatery where J.T. Youngblood's formerly hawked their fried chicken (1905 Aldrich) …
All across the country – across This Great Nation of Ours, as the patriotism-pandering politicos like to say – restaurants and bars are having a hard time finding employees who will stick around. This is sometimes true even for those places offering decent wages and benefits and working environments, but they continue doing the best they can in difficult circumstances; but it's especially true for those places who expect workers to accept the same ol' same ol' shitty pay and conditions as ever, and the honchos of those places are pretty much whining about the lack of willing labor. (Hey – a little cause and effect, anyone?) Anyway. Among the places, those culinary and mixological emporiums, that are held in high esteem by both back-of-house and front-of-house warriors as well as the dining public, Jack Allen's Kitchen keeps being cited wherever there's industry people talking shop after a hard day or night (or double) shift. Continually. High esteem. And this is perfectly in keeping with what we learned of el jefe grande Jack Gilmore's operating philosophy a couple years ago. And we … just wanted to mention that here, you know? Credit where it's due – and some damned fine food and drink along with it …
Ah, damn it, Austin Chronicle Food Editor Jessi Cape has left the building. Of course, what with this pandemic and all, we've all pretty much literally left the building; but Cape, one of the finest journos your current reporter's ever worked for and with, has actually abdicated her Food News throne for employment in another sector of our economy. She'll be around these pages and these screens as a freelancer in the future, lucky for our readers, but do note that we're currently looking for someone to take her place in that position of editorial wrangling and leadership …
Meanwhile, former longtime Food Editor at the Austin American-Statesman? The excellent Addie Broyles, who was suddenly 86'd as that daily rag continues to rearrange the deck chairs on its particular Titanic? That same Broyles, as wise in the ways of living as she is knowledgeable in the ways of food, is now available to help you figure out your own problematic life situations with a little help from the Tarot …
WUXTRY! Athletic Brewing, the fastest-growing beer company in the nation (that also happens to be nonalcoholic), is launching their first bar and fitness pop-up, "Athletic Bar," in Downtown ATX. It's got more than 2,000 square feet of space equipped with a full beer bar, fitness gym, retail shop, and community gathering area, and will be open Sept. 1-26, Wednesday-Sunday, at 115 San Jacinto – with fitness classes for locals to enjoy for free. That's free gratis, yes, Al …
What else do we hear? For one thing, that the long-awaited Tiki Tatsu-ya joint ("I've been waiting for this thing for years," says Austin's own Buzz Moran) is scheduled to debut at 1300 South Lamar – right next to Ramen Tatsu-ya, of course – on [STATEMENT RETRACTED] of this year. We heard this from the brand's beverage director Cory Starr, who recently dropped off samples of their new Wray & Ting cocktail and an array of graphically dazzling swag, and, after a few swigs of that tangy new tipple, we're hoping that date holds true. Because we're pretty much jonesing for a trip to the tropical paradise that whole hula-happy crew is conjuring in South Austin …
And Easy Tiger (the one at 1501 E. Seventh) is going a little tiki, too – with their Tiki Tuesdays coming up on Sept. 14 & 28, featuring some potent cocktail creations of their own and pulled-pork sliders and a so-called Hawaiian Burger (we reckon it's that slice of grilled pineapple atop the smashed beef that makes it redolent of the Big Island) …
But of course this isn't really some Polynesian atoll we're living in, is it? No, it's Texas now – although we understand that it used to be Mexico, way back before Santa Anna was exiled to NYC and therein sparked, via Thomas Adams, the whole world's chewing-gum craze – and so Tacodeli's latest special-of-the-moment is what's got us drooling most authentically: The Chile en Nogada taco (on the menu at all Tacodeli locations beginning Sept. 15), featuring a roasted Anaheim pepper stuffed with HeartBrand Ranch akaushi picadillo, drizzled with a creamy walnut goat cheese sauce, and topped with fresh pomegranate seeds and cilantro …
Since we're heralding these mid-September things already, you know we've gotta mention that the Austin Chronicle Hot Sauce Festival, now in its palate-blazing 31st year, will be bringing all the most flavorful and local peppery sensations (and live music) to the Far Out Lounge on Sunday, Sept. 12 … And at the Far Out this Saturday, Sept. 4, Houston's hip-hop hero Bun B brings his raptastic audio radiance to enhance an afternoon of bad-ass barbecue … and there's Otoko's new 12-course Kaieki-Ryori omakase experience on the first Thursday of each month … and the aforementioned Easy Tiger (the Linc location, note) is already rolling out their Labor Day specials … and Carpenters Hall has a music-enhanced BBQ + Pool Party planned for this weekend's terminus …
Also, philanthropy: Each year on Sept. 11, Austin's Cupcake Bar makes it their mission to express gratitude and appreciation to area firefighters by delivering cupcakes to local fire stations. Hey – you wanna help deliver them, citizen? You can pick up the treats from Cupcake Bar HQ (Sept. 10-11; Fri., 10a-4pm; Sat., 10am-noon) and deliver them to your designated station. See right here for sign-up details … and, along these people-empowering lines, know that Eberly is honoring the nonprofit Girls Empowerment Network by donating $1 to the organization with every creme brûlée sold …
And, look: The holiday season's coming at us again, 'ronas or no 'ronas. And maybe most of your fam's been double-vaxxed by now, with a booster shot already scheduled? And so there'll be, like, nom-fueled gatherings that you want to be as enjoyable as possible? And you know how enjoyable a curated array of fine cheeses can be – so we'll just whisper the word "Antonelli's" into your holiday-planning ears right now …
And, just catty-corner from that Antonelli's, right there in the heart of Hyde Park? The new Curra's is open for business at 4215 Duval and bringing a plethora of tasty Tex-Mex noms to the neighborhood and beyond …
All of which you can consider while thrilling to the news that the 10th annual Austin Food + Wine Festival is on its way – huzzah! – to inundate your culinary and oenophilic senses on Nov. 5-7. So, if you're looking for tickets …
Finally, this week: It's a pity that zebra mussels aren't worth harvesting for food – there's not much meat to the small things, after all – because, boy howdy, the invasive and highly problematic bivalves are a-cropping up in Texas waters everywhere, lately. (Jesse Griffiths, locavore supreme, whattaya think? Maybe another labor-intensive appetizer on the fall menu at your acclaimed Dai Due Supper Club?) …
Now – y'all eat as well as you can, tip like it's going out of style, and mask up & mind those pesky Delta variants.
A note to readers: Bold and uncensored, The Austin Chronicle has been Austin's independent news source for over 40 years, expressing the community's political and environmental concerns and supporting its active cultural scene. Now more than ever, we need your support to continue supplying Austin with independent, free press. If real news is important to you, please consider making a donation of $5, $10 or whatever you can afford, to help keep our journalism on stands.
READ MORE
More by Wayne Alan Brenner
Who says we can't be the other-than-live-music capital of the world, too?
Oct. 7, 2022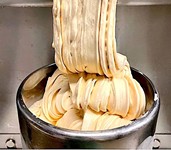 All the news that's fit to get your taste buds quivering
Oct. 5, 2022
MORE IN THE ARCHIVES