Here's Even More Mother's Day Dining Options
Whoa – some people actually love the one who birthed 'em!
Sure, we already told you about several other mom-specific culinary treats available 'round here. And of course we've got that long list of all the still-operating eateries in this town, ongoing and constantly updated. But how could we not bring these three Mother's Day delights to your attention, as well?
Serving suggestion: Order soon, then pick up hot & fresh that day.
Eberly is offering a one-day-only pastry brunch, with chef Sarah Senghi baking up a fine array of cinnamon rolls, lemon raspberry pound cakes, apricot jam babkas, chocolate chunk banana breads, and chocolate cookies. Now, that's some mighty tasty carbs right there, hey? And you can supercharge all that bready goodness with the addition of wine selections from sommelier Krista Church and flower arrangements from Rebel Floral. Note: Orders must be placed by Thu., May 7. And you can do that right here.
Parkside brings the freshest of the ocean direct to to your favorite mama this weekend, presenting a Grand Platter featuring oysters, king crab leg, shrimp remoulade, lobster salad, classic ceviche, tuna poke, and a bottle of rosé. (Note: Those grapes always dreamed of the ocean, back in their days on the vine.) And, not content to overwhelm your gustatory sense with just seafood, the Parksiders are also offering a big ol' quiche of spinach and feta, a lovely cheese and meat board, and what they're calling a Strawberry Sunshine Cocktail Kit. Reckon this is just the sort of feasting you might want to check into with a little click.
In our novel coronavirus times, you'd think the joint might rebrand itself as Somewhat Difficult Tiger … but, no, that Easy Tiger is still as easy as Sunday morning. And, for the Sunday morning that celebrates everybody's mother, they're baking up some scrumptious lemon tarts, an asparagus-and-Gruyere quiche, and gathering a plethora of fresh goodies for their tigeriffic Mother's Day Gift Pack. Click here for details, but make sure you get those orders in early.
A note to readers: Bold and uncensored, The Austin Chronicle has been Austin's independent news source for over 40 years, expressing the community's political and environmental concerns and supporting its active cultural scene. Now more than ever, we need your support to continue supplying Austin with independent, free press. If real news is important to you, please consider making a donation of $5, $10 or whatever you can afford, to help keep our journalism on stands.
READ MORE
More by Wayne Alan Brenner
Who says we can't be the other-than-live-music capital of the world, too?
Oct. 7, 2022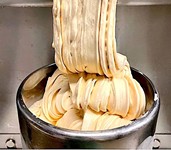 All the news that's fit to get your taste buds quivering
Oct. 5, 2022
KEYWORDS FOR THIS POST
Mother's Day Dining Options, plaguetime celebrations of maternity, Eberly, Parkside, Easy Tiger, "Somewhat Difficult" Tiger hahahaha
MORE IN THE ARCHIVES