Five Last-Minute New Year's Eve Picks
Make the last moments of 2014 count without tons of planning.
By Chrontourage, 12:09PM, Mon. Dec. 29, 2014
Here are five events we love that still have tickets available that won't break the bank.
The recently remodeled venue celebrates its first anniversary with a Studio 54 themed New Year's Eve party. Brooklyn band Escort and Austin favorites Holiday Mountain will perform while you dance on a light-up dance floor. Seriously, just like Saturday Night Fever. After-midnight bites and a Champagne toast included with tickets. Pre-order your tickets here.
2. OZtin: A Technicolor New Year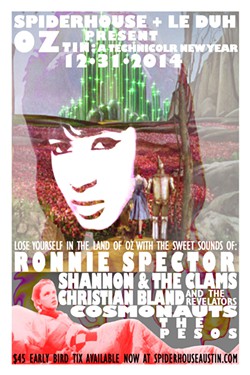 Re-imagine the Land of Oz in a colorfully designed and fashioned world, and watch Austin transform "somewhere over the rainbow" for one night only! Celebrate with
Ronnie Spector
and special guests
Shannon & the Clams
,
Christian Bland & the Revelators
,
Cosmonauts
, and the
Pesos
. 3.
NYE 1968
Most of the block at East 6th & Onion will time warp on New Year's Eve with music from that year performed by Austin bands such as Holy Wave, Sweet Spirit, the Moonwalks, the Bad Lovers, Dikes of Holland, BLXPLTN, Quin Galavis, and even more spread among Hotel Vegas, the Volstead, and Gypsy Lounge.
4. Black & Red Masquerade Ball
Austin's Latin dance party revelers take the Belmont once again for New Year's Eve. Make sure to come decked out in black and red, masks preferred. General admission tickets are available to enjoy the show, or choose VIP tickets that get you rooftop access and food and drink extras. 5.
Talking Heads House Party With HeartByrne
Experience the music of the Talking Heads this New Year's Eve at Parish with HeartByrne, Austin's favorite Talking Heads tribute. Parish will be transformed into an Eighties house party complete with B-boys, a live DJ spinning before and between sets, and a complimentary Champagne toast at midnight! Advance tickets available at www.theparishaustin.com.
For even more New Year's events, visit austinchronicle.com/newyearsguide.
A note to readers: Bold and uncensored, The Austin Chronicle has been Austin's independent news source for over 40 years, expressing the community's political and environmental concerns and supporting its active cultural scene. Now more than ever, we need your support to continue supplying Austin with independent, free press. If real news is important to you, please consider making a donation of $5, $10 or whatever you can afford, to help keep our journalism on stands.
READ MORE
More New Year's Eve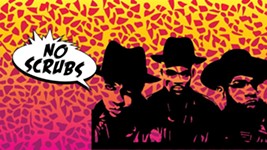 These are the many ways to say goodbye to 2017
Chronicle staff, Dec. 27, 2017
Buses are free as APD announces a midweek no-refusal crackdown
Richard Whittaker, Dec. 31, 2013
More by Chrontourage
Your one-stop weekly source for capital city events and nightlife
July 18, 2012
Come celebrate our weird city and don't forget to dress up!
June 21, 2012
KEYWORDS FOR THIS POST
New Year's, New Year's Eve, Christian Bland, Holiday Mountain, Escort
MORE IN THE ARCHIVES