The Q&A Hole: What's the Worst Thing About Austin, Texas?
With Jen Cash, Sam Eidson, Shannon McCormick, Matt Oztalay, and more.
Yes, we did say, at the start of the question, besides the traffic.
Because, otherwise, tell you what: Everybody would say something about the goddamn traffic. Cash-strapped freshmen at UT and ACC would rail against it; overpaid politicos at the Capitol would bloviate contra its negative impact; home-brew aficionados with the smell of hops on their hands would launch a beery harangue; your old roommate's friend who's raising that purple-haired herb with a Gro-light in his garage would diss it soundly.
Even your kids and pets know that the traffic's abominable here.
So, having been restricted from that evergreen grouse, our respondents skipped to the next bête noire on their location-based shitlist. And here's what they said, when asked this question in our ongoing series:
BESIDES THE TRAFFIC, WHAT'S THE WORST THING ABOUT AUSTIN?
Chris Nicholas of Staple! Independent Media Expo: Rent's too damn high.
Sam Eidson, actor: It's gotta be the weather. We don't have seasons. And for 80% of the year it feels like walking inside a mouth. And then it'll tease us and get nice for a few days, and then Mr. Hyde us back to helltown when we're just getting comfortable.
Jen Cash, artist, chef: The lack of infrastructure. We piled a shit-ton of people in and we keep packing them in with zero solutions. And the expense of living here – that's actually the worst. It's chasing out everybody worth a shit.
Erin Parr of Dorkbot: Decreased affordable housing. It's more and more difficult to find places to live – and those you do find are, in my opinion, not reasonably priced compared to the average wage.
Shannon McCormick, actor, improviser: Well, it's related to the traffic. Austin is not a built environment that fosters walking around very much. It's not a pedestrian-friendly environment. It's not a dense urban environment that you could exist in without a vehicle. And with that, of course, comes horrible traffic; but part of it is an infrastructure situation. I really like dense, urban environments – it's why I prefer New York to Los Angeles. And we're not dense enough, baby.
Lana Lesley of Rude Mechs: My first six answers I can't actually say out loud. For me, personally, as a person who runs an arts non-profit? The lack of philanthropy is the worst thing.
David Wheeler of Dragon's Lair: You know, I arrived here in 1982 to go to the University of Texas. And even then, people were saying that Austin is too big, that people should cease coming here. And they're still saying that. And I dislike the dialogue that states that new people shouldn't come to Austin. Yes, Austin has so many things coming for it, and obviously we need to do growth intelligently. But from at least '82 until now, people have been saying, essentially, "Yankee Go Home," and I don't think it's necessary. Make new people welcome!
Hilary Thomas-Oliver of Ponytrap: Worst thing about this city? The weather sucks pretty bad. But – remember how only a few short years ago, people used to, as a pastime, sit around and talk about how awesome Austin is? I hate how that's shifted to discussions about how awesome Austin used to be. I still think Austin is pretty fucking awesome, tyvm, and I'm tired of the cynicism and pessimism about what is still one of the best cities in the U.S. (Even if the traffic and weather are awful.)
Matt Oztalay, game designer: Ooooooooooh man. I'm gonna go with NIMBYs. I've seen a lot of nimbyism in Austin since I moved here. For example, the opposition to Grandma cottages, the Grove PUD, expanded transit options and improvements. There's a lot of things a lot of people in the city could use, or need, or that would help address many of the problems facing the city (like affordability), but the opposition to it always seems to be more vocal, more organized, and more succinct than the supporters.
Karen Davidson, screenwriter: The appropriation of our cultural heroes to sell some shitty soulless version of Austin to newcomers: Case in point, the Hotel Van Zandt. I haven't been there, but unless there are down and out brilliant junkies on the stoop and hard times in the lobby, I'm calling bullshit. To be fair, I also despise Rainey Street as a whole.
Ken Webster of Hyde Park Theatre: Besides the traffic, the worst thing about Austin is losing theatre venues like the Off Center and Salvage Vanguard, and the uncertain status of Ground Floor Theatre. There just aren't enough venues to showcase the amazing talent we have in our theatre community.
Marshall Ryan Maresca, author: Allergies. Between Ragweed Season and Cedar Season, I have about four months a year where I have to be highly medicated simply to function. That's literally the only thing that impedes on my joy for living in this city.
Dustin Svehlak, filmmaker: I would say that there's not enough money involved in the arts, in terms of making a living at it. Almost all of us that work in stand-up comedy or film or whatever, it's rare that that's your only income. Usually, you're still holding down some day job and working the weekends and nights. That's what I've been doing for the last five years: My weekends and nights have been taping stand-up, making film shorts, working on the Funniest doc; and my day job's been working in the computer industry. And I don't know if that's everywhere, but if you troll Craigslist as much as I do for freelance gigs, the majority of them are asking you to do stuff for free – or you'll get a credit on something that's "absolutely" gonna get into a festival. There should be more folks in town compensating for people's talent and work. And that gets into the area of how seriously people are taking it, too. I mean, I've gotten on a lot of gigs, especially when doing it for free, where I'd get involved and the people didn't know what they were doing at all – so then I'd either be in charge or I'd be pissed off and didn't want to be involved with it anymore.
A note to readers: Bold and uncensored, The Austin Chronicle has been Austin's independent news source for over 40 years, expressing the community's political and environmental concerns and supporting its active cultural scene. Now more than ever, we need your support to continue supplying Austin with independent, free press. If real news is important to you, please consider making a donation of $5, $10 or whatever you can afford, to help keep our journalism on stands.
READ MORE
More by Wayne Alan Brenner
Who says we can't be the other-than-live-music capital of the world, too?
Oct. 7, 2022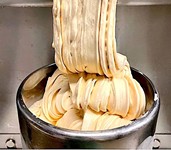 All the news that's fit to get your taste buds quivering
Oct. 5, 2022
KEYWORDS FOR THIS POST
Q&A Hole, Worst Thing About Austin, Brenner, Jen Cash, Chris Nicholas, Shannon McCormick, Sam Eidson, Matt Oztalay, Dustin Svehlak, Erin Parr, Lana Lesley, Hilary Thomas-Oliver, David Wheeler
MORE IN THE ARCHIVES