SXKIDS: Part Two, Electric Bugaboo
The second round of big picks for wee rockers.
We're halfway through Spring Break and with one weekend of SXSW behind us, we cherry picked a few gems to forge the family onward through the next.
Part two of our Rock Out with Your Kid Out coverage is dedicated to the incomparable Margaret Moser. The queen of the under-18 scene has always been a fierce advocate for youth and music, and her legacy is one we'll be toasting a long time to come.
Sing Me a Story Foundation pairs young Austin songwriters with stories written by children in hospitals, hospice care, and homes. These stories are an opportunity for kids to tell their own stories and express their imaginations in an empowering environment. Austin grade school and high school songwriters put these stories to music, and this (surprisingly uplifting) marriage of the two is what we're invited to celebrate. It all happens at the Tiniest Bar in Texas, Saturday, March 15, 12–3pm. The show is free, with donation proceeds to benefit Cancer Support Center of Central Texas, Gilda's Club Nashville, and SMAS Foundation.
Girls! Rock! This all-day event features a stellar, eclectic roster that will empower the future Joan Jetts in your life and have everyone in the crowd dancing. Personal favorites Charlie Belle, Mirah, the Cold and Lovely, and Buffalo Daughter are not to be missed. Cherrywood Coffeehouse will be serving up their usual scrummy fare, with enough coffee drinks to keep the crowds as energized as the musicians rocking them out. See full lineup and schedule at their Facebook event page. Free, Cherrywood Coffeehouse, Friday, March 14, 11:30am–10pm.
Peelander-Z, the Japanese Action Comic Punk band from NYC (or, if you ask them, "the Z area on the planet Peelander"), will be headlining this afternoon of music, art, magic, and food. Billed as an event "for kids of all ages," this will most definitely be remembered by young and old alike and as a SXSW-week bonafide Experience. Austin Music Award-winning the Octopus Project, Anthropos Arts All-Stars, and McCallum High School's Samba Knights round out the bill. RSVP is necessary, and early arrival is recommended. Door donations benefit Anthropos Arts, Sims Foundation, and Diverse Arts. Kenny Dorham's Backyard, Sunday March 16, 12–5pm.
Toy Joy will be keeping their doors open through Sunday night, so be sure to pop in for some extra love and a final trinket (or three) for the kiddos to remember them by. They recommend parking in the AMLI on 2nd, and will happily validate, so don't let the downtown crowd scare you away.
---
Revisit SXKIDS: Rock Out With Your Kid Out to stay in the know on all our family-friendly picks.
A note to readers: Bold and uncensored, The Austin Chronicle has been Austin's independent news source for almost 40 years, expressing the community's political and environmental concerns and supporting its active cultural scene. Now more than ever, we need your support to continue supplying Austin with independent, free press. If real news is important to you, please consider making a donation of $5, $10 or whatever you can afford, to help keep our journalism on stands.
READ MORE
From retro horror to COVID survival, the best of the fests
Richard Whittaker, Jan. 7, 2022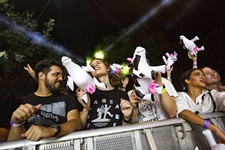 Federal program gave $130 million to over 100 local businesses
Rachel Rascoe, Oct. 22, 2021
More by Terry Ornelas Woodroffe
Beer, popcorn, and "Bidi Bidi Bom Bom"
Nov. 14, 2014
On this day of remembrance, we honor the memory of a Best of Austin friend
Nov. 2, 2014
KEYWORDS FOR THIS POST
South by Southwest, SXSW, Family Friendly, Day Parties, All-ages, Kid-friendly, fun, music
MORE IN THE ARCHIVES